Mass Effect's Commander Shepard gets his one-man improv on
When Mark Meer speaks, geeks listen.
His voice is devoured by theatre audiences, improv junkies and video gamers; we're all geeks in our respective interests.
"My concerns are nerdy," says Meer. "I grew up enjoying SCTV, Monty Python and Kids in the Hall. I didn't have drama class in school. The closest I had to acting was Dungeons and Dragons."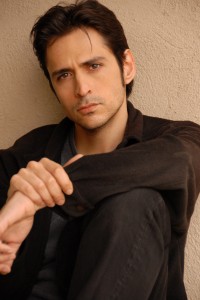 It wasn't until Meer moved from the small town of Sedgewick to Edmonton and attended the Teen Festival of the Arts at the Citadel did drama take hold.  Under the tutelage of comedy gurus Three Dead Trolls in a Baggie, Meer found himself attracted to improv, loving its spontaneity and quickly played catch up to his associates.
Now Meer is synonymous with Edmonton's close-knit improv scene. He's been with Rapid-Fire Theatre since 1992, has co-founded Gordon's Big Bald Head, hosts the monthly Oh Susanna! variety show at the Varscona Theatre and continues to weave hilarity with the absurd in the long-running improvised soap opera, Die-Nasty.
"As a Canadian actor you have to be prepared to change hats a lot," says Meer. "From acting, commercials, plays, sketch shows to corporate gigs."
Now Meer is gearing up for the opening of Shipwrecked! The Amazing Adventures of Louis de Rougemont As Told By Himself, in which he plays an assortment of characters "with lots of hats and different accents."
"(Shipwrecked!) is about storytelling, things theatre plays can do but TV and movies can't," says Meer.
Based on the tale tales of a 19th century British explorer, Shipwrecked! promises adventure on the high seas, presented with a mixture of humor and farce. Shipwrecked! is also local upstart Atlas Theatre's first production, which will, in addition to Meer, also include Glenn Nelson and Davina Stewart.
To solidify his near monopoly on all forms of media, Meer is currently involved with the writing of the third season for APTV's Caution: May Contain Nuts and is eagerly awaiting a renewal from CBC for The Irrelevant Show, as heard on radio and podcasts (here, caution: will launch iTunes).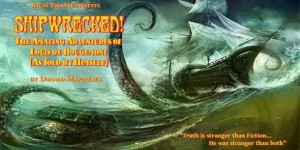 But as popular as those productions are, it's his voice acting that has allowed millions to experience his speech.
"I was lucky enough to get in on the ground floor at BioWare," says Meer of the local video game powerhouse.
His first break into the world of pixels was a single line at the end of Baldur's Gate II. A string of games followed, including Jade Empire, Dragon Age and Neverwinter Nights, but it was the Mass Effect games that have allowed him to move beyond monsters and trolls and into something substantial.
"I am quite honoured to be the male half of Commander Shepard," says Meer of the sci-fi RPG's protagonist.
"(Voice acting) is great. I don't have to shave or wear pants.
BioWare has been generous in terms of allowing actors to alter their lines to suit the scene. It's a collaborative experience."
Rest assured gamers, Meer says the scripts for Mass Effect 3 have been arriving on a daily basis and he is prepared to begin recording soon.
An admitted videogamer, Meer has played through both Mass Effects and admits, "Despite not being privy to details of the plot, I often know both ways a conversation can end, having recorded the parts."
His "dream job" is about to become even more staggering when the oft-delayed Mass Effect action figures hit store shelves.
"We're crossing our fingers that soon I'll be able to put Commander Shepard next to Dr. Doom and Darth Vadar on the shelf," says Meer. "It'd be a fulfillment of a life-long dream."
Shipwrecked! The Amazing Adventures of Louis de Rougemont As Told By Himself, opens at Holy Trinity Anglican Church (84 Ave. and 101 St.) Feb 18. (Friday) and runs through Feb. 27.