ART: Pawn stars benefit from collateral collectibles
Stony Plain Road is a great destination if, due to poor financial advice, you need to pawn your Makita drill. It's also handy if you need nipple tassles for your girlfriend (or boyfriend) from one of the area's handy adult XXX shops.
But it's not the part of the city you would think to hit if you wanted to score art.
Susan Yedgarova of West End Exchange is somewhat evasive when first asked if there's any paintings or sculptures in the shop. She's a no-nonsense sort that's used to getting to down to business quickly with, to put it mildly, some of Edmonton's less-polished population.
Yedgarova doesn't greet customers with a "Good day, how can I help you?" She says, "What do you need?" But it doesn't take long for her to become excited about the paintings and sculptures that end up in her possession. There are a couple of oil paintings of pastoral scenes beside rivers. They're stashed high a framed print of a grizzly bear and another of a cougar that are signed "J. Zacharias."
The prints are priced at about $100 each. Yedgarova has no idea what the paintings are worth. She agreed to take them as collateral based on the value of their plaster-mold frames. As is the case with all the guitars, TVs, tolls and everything on the sales floor of a pawn shop, the owners defaulted on their loans.
The signature on the largest of the paintings, which is about the same size as a 52-inch flat screen TV, isn't even visible because the frame covers it up.
"It could be worth a million dollars for all I know," she says of the painting.
Then there's sculptures. Two of her favourite carvings, one of a walrus that rests upside-down on its flipper and the other of a bear, aren't even for sale. She likes them so much that they aren't on the display floor, but she's happy to pull them out from storage t show them off.
An ornately-carved ivory tusk from Africa can be your for $1,000. According to Yedgarova, it belonged to a woman whose father brought it back to Canada after the Second World War. The woman pawned it several times at West End Exchange before eventually defaulting on her loan.
An artist who used to live in the neighbourhood occasionally dropped in when he needed cigarettes. He'd trade a little carving he'd made for the price of a pack of smokes.
"There's a story behind every item. You have to be patient and listen to their stories — their version of their stories. It's not always the truth," Yedgarova says, noting the owners either often need money fast.
"We can't give them what the galleries can," she continues. "Ninety per cent of the time, people believe they will be coming back for them."
There's a needlepoint on a shelf with a date of 1746 that was pawned by a collector from Ontario, and Yedgarova says it was appraised at last year's Wild Rose Antique Show as being worth $2,000. The collector had been from a good family and collected antiques while she was married. Then she developed a drug habit.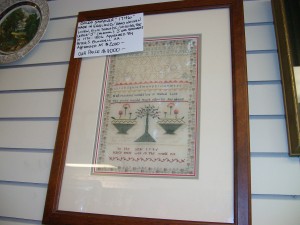 She managed to get clean, Yedgarova explains, and had hoped to return for the needlepoint. But the latest word is that she'd broken her back and can't work.
EBay, she says, helps a lot with appraisals. Before that, she had to call around to galleries or use books and catalogues to figure how much a piece could be worth as collateral.
Art isn't a big part of their business, but Yedgarova says in a pawn shop, you have to do a bit of everything.
And who buys art in a a pawn shop?
Yedgarova says doctors, lawyers, and ordinary folks looking for a bargain. There's also shrewd collectors who roll up in Mercedes-Benzs and like to haggle.
"Some of them are cheap," she says. "There's a reason they're rich."