Rammstein rams Rexall, Mother Mother moves up to Edmonton Events Centre
The concerts are really starting to pile up here.
Now it's Rammstein coming to Rexall Place on Friday, May 13 – a full-blown, flaming-phallus, exploding arena-rock spectacular from the German techno-metal band that makes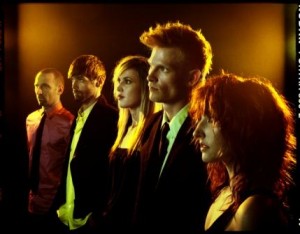 Marilyn Manson look like Marilyn Monroe. Maybe because it's all in German it sounds scarier. They could do The Beer Barrel Polka and it would sound like the devil. Let's not give them ideas.
Rammstein has not invaded North American soil in 10 years, but the band's "epic" arena show comes with an advance boatload of uber-hip European press waving pointed praise along the lines of "surely one of the wonders of rock" (The Times) and "you won't find a better live band on the planet today" (Metal Hammer). That's enough. You had us at "Rammstein."
The band is touring behind its latest album Liebe ist für alle da –scary! Actually … it means "love is for everyone" and we can assume Rammstein means that literally. The album was censored in Germany because of explicit sexual content.
Tickets to this all-ages show (general admission floor, reserved seating in the stands) are $25, $39.50, $59.50, $79.50 or $115 (plus service charges) and go on sale Friday, Feb 25 at 10 am.
Next, it was foretold that a great new band from Vancouver would become a headliner – and lo, it has come to pass. Mother Mother will play the Edmonton Event Centre on Thursday, March 31. They sound like the B-52s meets the Talking Heads at a Pink Floyd concert. They have harmonically interesting and lyrically surreal songs that tear the status quo to pieces. They rock. File under "must see."
Tickets to this general admission, all-ages show are $22.50 (buy).