REVIEW: Feast from the east
Midnight Sun Restaurant
11023 124 Street
780.452.2282
An ode to ginger beef:
I think that I shall never like you,
err you crunch when I should bite you
and if your spice is tame a bland,
it would be more than I could stand,
but please don't be too limp or weak,
with too much batter, too much meat,
and please don't be too hot and fiery,
or earn a black mark in my diary!
With no endorsement to bequeath
I guess I'll skip the ginger beef.
And that, with apologies to everyone from Ogden Nash and Peter Sellers to P.F. Changs and City Wok, is how I generally feel about ginger beef. No one, but no one, can turn these greasy strips of over-battered gristle into anything resembling an entree.
Ginger beef, it would seem, is one of those marvellously inexplicable mass-market inventions. You can buy it at every Fake Chinese restaurant under the sun, and nearly every one of them produces something akin to cutting hunks of rubber off the soles of your shoes and deep frying them.
But people seem to like them anyway.
So, on the odd occasion that one stumbles across a Fake Chinese ™ restaurant — the only type we really have here — serving the same hundred or so clones of dishes developed a century ago in California and finds …gasp….edible ginger beef, it fairly warrants shouting it from the rooftops.
Or…..keeping it to oneself. I discussed my dilemma with my food guru.
"Doris, old bean, I have a predicament," I said.
"Call me old again and you'll really have one," she responded. "Plus….'bean' doesn't do much for me, either."
"Apologies and understood."
"So, onto your predicament."
"Yah. Well, I've found a Fake Chinese ™ restaurant in Edmonton that not only cooks delicious ginger beef — replete with tender morsels of beef, a light and crispy batter and a ginger sauce that isn't oversweetened — but also cooks everything else well. You name it: Curry, Singapore noodles, egg rolls. If it's Fake Chinese, they do it brilliantly."
She seemed momentarily perturbed that her wheeler-dealer time was being so occupied. "And the problem is?……."
"Well, they're not a very busy restaurant right now, although they've been around forever. If I tell everyone about them, they get flooded with orders, they bring in extra help, the quality of the food declines and bingo…….
"…..crappy ginger beef. Hmmm… I see your predicament, Lowell."
Well, actually, she didn't say that. She said something far less polite that involved reminding why I get to go to these restaurants, then threw me out of her office.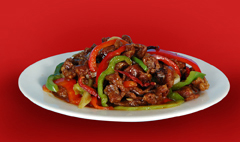 And so it is with full and unreserved affection that I recommend Midnight Sun, 124 Street's answer to a little piece o' takeout and delivery heaven. The restaurant itself is no great shakes — a bunch of round formica tables covered with those adorable "
"national landmark" paper table mats that the Alex Wilson Coldstream printing firm in Dryden, Ont. has been knocking out for decades.
But given that almost everyone who purchases their food does so for pickup or delivery, the surroundings are unimportant. Midnight Sun makes, simply, the best food of its kind in Edmonton.
The curry, a typically Chinese yellow variety replete with the usual celery and potatoes, is thick and hearty. Like all of Midnight Sun's dishes — it has a full side of Vietnamese dishes as well that I confess I have yet to sample — the portion size could feed a small village in Hunan Province.
The sweet and sour chicken balls have less than the usual inch of batter on them, and it's almost fluffy, compared with the greasy crunch-fest you get from other restaurants. The Singapore noodles are spicy, with plenty of shrimp and pork. The Beef and vegetables are plentiful.
Nearly all of the entrees here start south of $10, which means an enormous feed for four people, with substantial leftovers, will only run you around $50. The restaurant is licensed so, in the event that they take longer than the usual 15 or 20 minutes to process your order, you can kick back with a beer.