MUSIC PREVIEW: from Motown to E-town to Downtown with the Pale Moon Lights
Pale Moon Lights, with Concealer, Jody Shenkarek and Fear and Worry
Sat at 8 p.m.
The ARTery, 9535 Jasper Ave
It was almost like seeing the Pale Moon Lights for the very first time at last December's CD release for Notebook Magazine's Great Northern Revival compilation.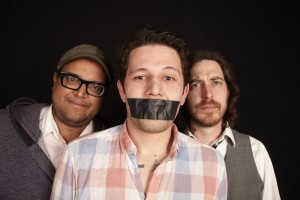 They'd been around for years, but the three-piece – no longer four with singer-guitarist Jesse Dee having moved to B.C. – were now a newer, shinier beast as they adapted to the open musical possibilities and space now available to them. Patrick Michalak's bass, fuzz-fed through a host of shiny boxes, took on a warm sound that overlaid Idris Fashan's non-standard drumming and singer Kris Glabush's ambient guitar work. The references were no longer of the folk variety like Sun Kil Moon or Bon Iver, and instead it was the Flaming Lips.
In point of fact it actually was the first time anyone had seen them in some time, nine months to be precise, when they were just adapting to their new configuration with a gig at the Empress Ale House.
"I'd been in the band for a year at that point," recalls Michalak over the phone while prepping for band practice. "Jesse had been bouncing back and forth between provinces and we'd been playing with him when he was around. We weren't sure when we booked it whether he'd even be there but decided 'fuck it, let's do it anyways.'"
The band has gone a great distance since then, rearranging their material, scrapping it all, finally coming up with new ones that better suited where they were now.
"We were in a different mindset," says Michalak, who came to Edmonton a few years ago from Detroit, where he was a key figure in that city's alternative scene. "Kris would bring a song to practice and play it straight to me and Idris, and I'd say 'that's a cool tune, lets fuck with it,' and Idris would start messing with the beat. I'd do the rhythm parts that Kris was doing, and he would drop out and not play at all."
The period between gigs was at least partially due to circumstance, with all three dealing with work and family, Michalak also juggling multiple responsibilities as an in-demand sound engineer (Awesomehots, Black Mastiff) and member of Colleen Brown (video) and Darren Frank's band. Committing to a once-a-week practice has sharpened them, as well as pushing themselves into musical apostasy from their alt-folk beginnings, which may not be as surprising as it sounds.
"I've always been more in that direction of playing shit that's fucked up, or trying to open up new doors, pushing boundaries. In Detroit bands were usually about that, and the bands I was in always were. Both guitarists in my last band had massive pedal boards, with weird pedals that turned your guitar into a synth or a drum machine. That's what I'm used to, so when I came here, where the sound is rootsy, it was something of a change."
"I think Idris may have gone through the same thing as me; he comes from this house and techno background, and has stories about going to Detroit electronic music festivals in the '90s. In a sense he's come full circle, from electronic to folk and now back to working with electronic again."
Now that Pale Moon Lights are back to playing semi-regularly again they're now in the position of flogging an EP (released two years ago) that really doesn't represent their current sound. That calls for more recording, which Michalak allows the band has been chomping at the bit to do, though schedules once again have pushed that possibility into early summer.
"We have a good start with seven new songs, but we're kind of just getting it together at this point; I really feel it's the tip of the iceberg."
Tickets are $10, available at the door; this gig is all ages.