Mad Men, in-crowd drive rebirth of cocktails
Cocktail hour — what a wonderful parlance. It conjures up a world of thick glass tumblers and geometric ice cubes tinkling in the midst of a an expertly mixed libation.
So why is it cocktails in Edmonton bars are practically synonymous with sickly sweet swill served in neon pink cups? Preferably with thumping music, of the beats-fast-and-bass-down-low variety, bleating overhead?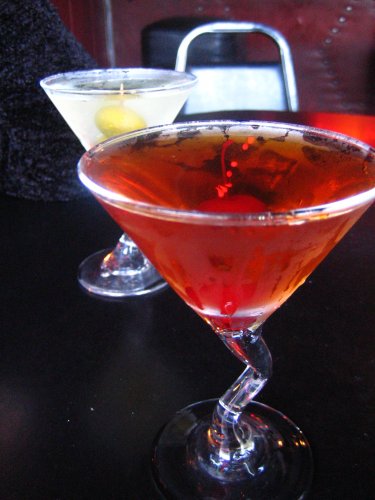 Let's back up a bit here. A cocktail, by definition, is an alcoholic mixed drink. It's nearly impossible to determine when the first cocktail was served, but you can safely assume people had been cutting their booze with other ingredients for as long as there have been spirits.
Your grandfather's cocktail would've been a Manhattan or an Old Fashioned ( – bourbon, sugar, bitters and soda water – it's name, ironically, referring back to the days of "classic drinks" a.k.a. the late 1800s.) The cocktail you're hoisting in your Facebook profile photo? Likely a potion concocted by the prop designer of Sex and the City.
However, much like fashion, alcoholic beverages are cyclical and Edmonton has been experiencing a bit of a cocktail renaissance as of late.
Brady Grumpelt, an instructor with Edmonton's Fine Art Bartending, confirms a shift in the drinking population's consumption.
"Younger drinkers want to try what their parents drank," says Grumpelt. "They also see a show like Mad Men, where all the characters have martinis in their hands, and they want to explore that culture."
Grumpelt points to the university crowd (hipsters) as the forerunners in the classic cocktail revival.
"What we're seeing is a lot of takes on a classic, such as adding liqueur to add a vanilla taste (to a drink)," says Grumplet, adding national trends are picking up and bringing additional martinis, mint juleps, and more whiskey-based drinks back to cocktail menus.
With over 20 years in the bartending business throughout the world, Erick Rosende has seen countless trends come and go and says there's currently more of a focus on quality booze used in cocktails.
"Classic drinks will always stay the same, but there's more whiskey, gin and vodka being poured," says Rosende, master mixologist with Edmonton's Ultimate Bartending School.
Rosende agrees that it's urban professionals flocking to classic cocktails and who are willing to spend the extra coin for a higher quality alcohol. But ultimately, he adds, it's up to the bartender's passion and experience as to whether you end up with a tasty tipple or a glass of rotgut.
E-town has always been a beer and highball crowd, and while that paradigm is unlikely to shift, the city is still susceptible to national trends.
"Edmonton seems to be two to three years behind the trends in cities such as Vancouver, Toronto and even to a degree Calgary," says Grumpelt. "In Vancouver, what's happening there now, three to four years down the line we'll start seeing in Edmonton.
Grumplet points to the recent influx of vodka bars in city hotspots, offering a large selection of speciality vodkas (some locations offering 20-60 varieties) in the same vein of beer taphouses.
However, you won't be seeing waiters with handlebar mustaches and pocket watches slinging Apple Jacks any time soon, as Grumpelt says the classic cocktail market is still too much of a niche market for any local bar to specialize in. To quench your thirst for a classic drink, he suggests heading over to Suede Lounge (11806 Jasper Ave.) or you can try The Treasury Vodka Bar (10004 Jasper Ave.) or Devlin's Cocktail Lounge (10507 82 Ave.)