Art ala carte: Edmonton restaurants provide captivated audience
It's a more common complaint than you might realize. You love food because it tastes good and feeds your body, but you crave art for the way it nourishes your soul. Some restaurants, with the way they cover their walls with mass-produced stuff? It's enough to make you lose your appetite.
But then you go to an art gallery and your stomach starts rumbling again, so you find yourself a nice little still-life with apples and bananas and start noshing, and the next thing you know, the other patrons are staring and the security guards are headed right…toward…you.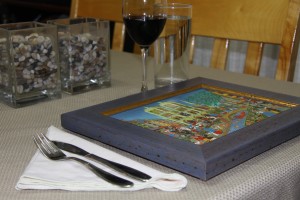 It doesn't have to be this way, you know.
There are places you can go, restaurants in this city that have the best of both worlds on offer. Not only will they put food on plates for your gustatory satisfaction, but they also make a point of serving up heaping helpings of locally sourced art on their walls.
John Williams says that he and the co-proprietors of the Blue Plate Diner find there's much more to a dining experience than what's found on the menu. "We wanted to create our own style of restaurant, with handcrafted food made by real people. Independent, local painters seemed like a great way to round out the concept," he says.
The Blue Plate employs a curator who changes their art displays every few months. It works to cultivate a relationship between the restaurant and their clientele. Williams says their customers respond to what they see as they dine, which encourages them to return on a regular basis to see what's new. At the same time, it fosters a sense of civic pride in the eatery's staff.
"We're proud of our restaurant and our city so we want to show everyone all of the great things happening here. We also greatly enjoy the diversity of the art. It reflects the general concept of our menu and our restaurant."
Williams believes that it's a mutually beneficial relationship that develops between the restauranteurs who display the art and the artists who create it. Maria Pace-Wynters, who currently has several paintings gracing the walls of the High Level Diner, concurs. In fact, she suggests that there are advantages to showing her work in a restaurant over showing it in a gallery.
"If you're showing in a business, it's easier in some ways because its not a show, per se," Pace-Wynters says. "It gives you some freedom, because you're decorating, in a sense. There doesn't need to be the same sense of unity that you would try and achieve for an exhibition in a gallery."
There is also, sad to say for art galleries, something to be said for the level of traffic that moves through a busy restaurant compared to your average gallery. But the major advantage, Pace-Wynters says, comes from the time diners spend with a piece during their meal.
"People get to try it on a little more, experience it as they would in their home. I've had people call me a couple of years after they saw one of my paintings in a restaurant. It just stayed with them as a fond memory of their experience."