The best thing about those old Bugs Bunny cartoons – aside from the high quality violence you just don't see anymore – was the music.
They used full-blown orchestras in those days, creating an evocative canon of music that became its own genre: cartoon symphonies. The Edmonton Symphony Orchestra takes a crack at it at the Winspear Centre for Bugs Bunny at the Symphony. Creator and conductor George Daugherty will lead the orchestra through such Looney Tunes classics as What's Opera, Doc?, The Rabbit of Seville, Long-Haired Hare and A Corny Concerto. Just say Figaro. The show runs today (Saturday Feb 19) at 2 pm and 7:30 pm and tomorrow (Sunday Feb 20) at 2 pm. Buy tickets here.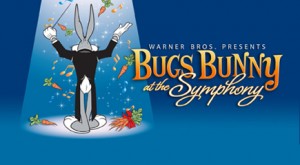 Meanwhile, the weekend of the women of rock is upon us. Heart plays the Jubilee Auditorium tonight at 8 pm, Saturday, Feb. 19 (buy). It's one stop on the Heart Comes Home - Canada Tour 2011. Carmen Townsend opens. Melissa Etheridge plays the same building tomorrow (Sunday, Feb. 20), with opener Serena Ryder. Buy tickets here.