MUSIC: Lionize feelin' irie about their odd stoner image
Fact: if you play in a band that blends reggae, classic rock and heavy, Black Sabbath-y grooves, people are going to assume you smoke pot.
The stoner rock tag is slightly perplexing to Nate Bergman, who does vocals and guitar for Maryland band Lionize.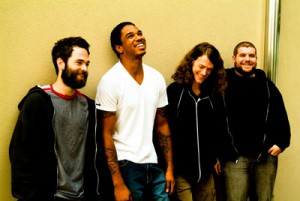 After all, he ponders, doesn't all rock sound better when you're stoned?
"There's a lot of bands in that category that I hold under really high regard," Bergman says. "I don't know, it's always confusing to me, the stoner thing. Because it's like, I thought all rock'n'roll was good to get stoned to. I didn't know it was just this specific type of slower, groovier stuff."
Bergman doesn't necessarily appreciate the implication that one has to be under the influence to dig certain types of music.
But he can confirm that several funny cigarettes have been smoked during the creation of his band's reggae-rock jams.
"Aw yeah, definitely. I would say there's been some pot smoking here and there," Bergman laughs. "I can't confirm when or where or how much. I just know it's been around before, I've smelled it.
"I think you can kind of tell when it is around. The snacks go quicker and the tunes get a little slower."
Lionize is set to play the Starlite Room Monday, where they will open for New Jersey ska-punks Streetlight Manifesto.
In his fourth month of nearly-nonstop touring, Bergman has no complaints about the road. Unlike many hard-gigging rockers, he's straight-up stoked.
And why shouldn't he be?
Fresh off the release of its well-received third album Destruction Manual, Lionized has already toured with some of its favourite bands and collaborated with childhood heroes.
After they opened for reggae legend Lee "Scratch" Perry, Perry handpicked Lionize to join him as his backing band for several festivals and US tours, where Lionize also played its own set beforehand.
The guys have also become friends with classic reggae act Steel Pulse, whose David Hinds and Selwyn Brown do guest vocals on the track Killers and Crooks on Destruction Manual.
"Those guys are the best. They were one of the first big bands to take us out on tour and believe what we were doing with our sound. They've been like big brothers to us in the industry," Bergman says.
"Recording with them was just a dream come true for us. They're a huge influence on us as a band, and they really made that song for us on the record."
On the heavier end, the band has also opened for the likes of CKY and Clutch – whose singer Neil Fallon worked his first job at Bergman's father's seafood market as a teen, and was often left in charge of babysitting Bergman.
"Everything comes full circle," Bergman says. "Now when we tour with them, Neil's still kind of babysitting us."
Clutch axeman Tim Sult played guitars on Destruction Manual and plays live with Lionize when he can.
Bergman says Clutch fans and other heavier crowds usually give Lionize the best reception.
"I definitely would say that the … heavier crowds tend to be a little more open-minded when it comes to what we're doing," he says. "Sometimes, quote-unquote reggae or ska crowds, they look down their noses at you a little bit I think, when it's not something that they call, quote-unqoute, traditional.
"We're not here to be traditional."
Lionize was recently confirmed for the 2011 Vans Warped Tour, which will allow them to tap into yet another pool of music fans.
It's tough to say how the predominantly young Warped crowds will take to Lionize, but Bergman can't wait to find out.
"When you put that many kids and that much alcohol in the heat, anything can happen, man."