SHE COMMANDS YOU TO ROCK
Have you ever noticed how many of Melissa Etheridge's songs are just simple commands?
Bring Me Some Water
Come to My Window
Let's Get It On
Yes, ma'am – as long as rock 'n' roll awaits. Etheridge plays tonight, Sunday, Feb. 20 at the Jubilee Auditorium (buy), with opener Serena Ryder. Etheridge, who has bared her soul yet again on her new record, Fearless Love, may have a future in musical theatre. The 49-year-old singer recently filled in for a vacationing Billy Joe Armstrong in Green Day's Grammy-award-winning Broadway musical American Idiot. She was quite the hit: "vocally fit for the rigors of a Broadway show," according to Rolling Stone.
Coming soon on the Great White Way: Yes I Am, A Lesbian Rock Opera.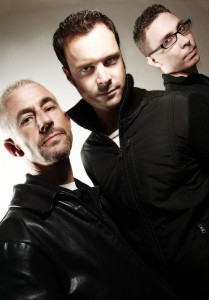 The Shaw Conference Centre is the site of a modern rave of epic proportions tonight (Sunday, Feb 20): Frequency 2011, the 6th annual Electronic Music Festival featuring Above & Beyond (pictured at right), Benny Benassi, Dash Berlin and many, many, more of today's top electronic music makers. Dance starts at 8 pm and runs continuously until 6 am tomorrow morning. You'll be in a Family Day mood by then, eh? Buy tickets here.