Morning man on a mission: Terry Evans takes on censorship
Terry Evans has worn many hats in his long radio career in Edmonton. Wasn't he a clean-head for a while there? Maybe it was a shave-your-head-for-cancer-awareness thing.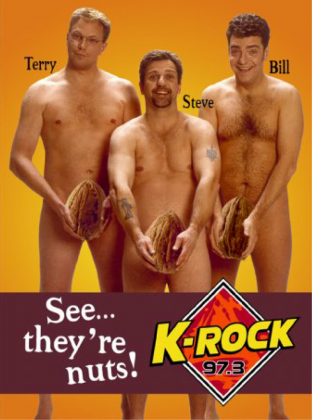 He even tried stand-up comedy (he wasn't very good, sadly) but says he hasn't had an act since 1993. He's far too busy. In addition to wearing his K-97 hat, his dad hat – as manager and tireless booster of his son Riley's band DRT – and a trucking company ballcap for a time there, Evans has donned the shiny helmet of a crusading media paladin, fighting for truth, justice and the Canadian way. Fans may recall his voice in a campaign of outrage over a decision by the Canadian Broadcast Standards Council to ban the song Money For Nothing because it contains the word "faggot." Don't we already have the CRTC (Canadian Radio-television and Telecommunications Commission) for this sort of thing? Seems to me that one of these redundant agencies could be gassed and save some taxpayer money.
K-97 responded with its usual attitude: by playing the song for one hour straight. We're just lucky they didn't ban Walk Of Life.
Evans sent me a list of other things he's done in the cause of community service:
– Rebuilt kids parks-K-97 Kids Park Project
– Restored cenotaphs for legions after vandalism
– Lived in semi trailers for food bank
– Stood on a driving range in a suit of armour for the Bear Children's fund (when he worked for the Bear 1992-97)
– Appeared in Edmonton Sun naked on bearskin rug.
OK, that's probably one point too far. You pictured it, you can't unpicture it. Sorry.
But he Facebooked me more:
"I skydived on radio … and did the world's first indoor bungy jump live on radio … got into Billboard magazine for that.
"I broke the Alicia Klass pornstar/Bruce Willis relationship to the Enquirer…"
OK, that will do. Man, once you get him going …
Terry's latest important quest is to get the Alberta Government to change its ridiculous law concerning underage performers.
Back in the day, a minor could perform on stage in a licensed venue with a consenting parent present. All it took was a quick permit. Simple procedure. Since 2007, a minor can't even enter a bar in Alberta. No exceptions, no special permission, no special privileges for toddlers, nothing. This results in absurd situations like the Merle Haggard show at the River Cree Casino last year, where the guitarist, Merle's 17-year-old son Ben, had to play from the tour bus via video link and what had to be one very long guitar cable. Evans also recalled Carson Cole doing the same thing with his son Cody at the Commercial Hotel, Carson in the bar, his kid in the room upstairs – and if you've ever been upstairs at the Commercial Hotel, there are worse things than going on than booze. Oh, relax. It was just a little pot.
Local drummer Greg Pretty also has talented kids – Luke and Tess Pretty (below), a local duo known as the Pretty Kids. They can't perform in a bar, either. Greg's buddy Johnny V was one of the first to fight the law when it was passed in 2007. His livelihood depended on it since his underage son was in his band. He finally gave up and moved back east – where it's legal to have a minor in a bar band. Our loss.
Greg Pretty writes, "What is most interesting is that the reason now generally cited for this decision is 'safety' and rising concerns that the bars are less safe than they once were. Yet at the same time the liquor commission will admit that there is NO STATISTICAL EVIDENCE to support the claim. And in fact there has never been a single reported case of an underage musician injured in a bar in Alberta.
"When one follows the political thread of 2007 – as Johnny V. Mills did – one learns that the decision was initially a knee-jerk reaction to the NDP's harsh criticism of the government for allowing the 'exploitation of children.' Motivated by a plea from a service industry that was unable to find people to work for minimum wage, the present government had earlier lowered the age by which minors could work in restaurants. So it initially had nothing to do with young musicians: it was merely a case of the baby and the bath water."
He invites us to consider the history of underage musicians in Canada who might not have become famous without playing in bars: Shania Twain, Colin James, Jeff Healey. Two years ago, Pretty wrote a letter to Solicitor General Fred Lindsay, and has yet to receive a reply.
Send in the cavalry! Terry Evans has lately added his media weight to the cause. He's been talking about this on the air, he's promoting an online petition that Greg Pretty started (which of course has no legal weight whatsoever beyond letting politicians know which way the shit hitting the fan is blowing) and he, too, has written a letter to the government.
It reads, in part: "My son is in a band named DRT. His bass player, Declan, is 14, Riley, my son, the drummer is 13 and guitarist Tayt is also 13. They formed in August of 2010 and quickly wrote original music, made a CD, got it onto iTunes and have been playing the odd live gig. They are talented kids and they have been nominated for 3 Edmonton Music Awards. These awards will be handed out on March 27-28 at the Haven Social Club in Edmonton. A remarkable rise to local glory for such a young trio and in such a short time. The EMA's offer an opportunity for some of the nominated bands to play during the awards ceremony but, alas, DRT is under age and therefore prevented from playing that night. As a matter of fact, DRT is prevented from even entering the Haven Social Club to attend the awards ceremonies … If they have the talent to be booked in this type of venue, why, with parental consent and supervision, should they not be permitted to do so?"
(Etc., etc.)
All sons should enjoy such a father's devotion.
Good question, though. Aren't parents supposed to be responsible for their children? In the hysteria over protecting human beings from any sort of harm – God forbid a 13-year-old should sneak a sip of beer – safety Nazis have been chipping away at personal freedoms everywhere. These include the rights of parents. With each step we take towards a law requiring all citizens to wear bubble wrap in their own homes, it's one less thing we don't have to be responsible for. It's one less consequence for one's own actions. What a relief. Hey, it's not my fault my teenager broke into the liquor cabinet, drank all the gin and puked all over the carpet. And it's not his fault, either. It's the government's fault.
Over to you, government. Beware the wrath of Terry Evans: DJ with a Vengeance.