MUSIC: Portrait of the artist as a young mogul
"It's going to be a crazy year," promises Joe Gurba of his plans for 2011 for his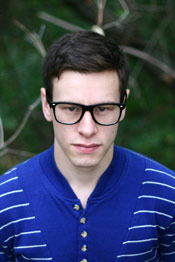 not-quite-fledgling label Old Ugly Recording Co. That isn't to say that it hasn't already been exciting; his profile around Edmonton has been elevated through the last two months as he's celebrated and promoted the release of his alter ego, The Joe's, most excellent new record, Float or Flail.
But recently, Old Ugly's brain trust sat down for an old-fashioned spitballing session and pieced together their plan for the year that anticipates a raft of CD releases across multiple genres of music, a float in the Old Strathcona Silly Summer Parade, a label Christmas album, tonnes of label-sponsored live music including a concert series at Leva Cafe that got underway just last week, a cabaret, and three "Folk Fires," which sound like both forward-thinking throwbacks and just dangerous enough to be really fun. But also, there's at least one other thing – "And we've also started a brewery so we're looking to incorporate that into some shows as well."
For the twenty-four year old, "One hundred and ten percent goal oriented" Gurba, being the proprietor of a thriving, busymaking label is exactly what he imagines success as looking like. That doesn't mean Old Ugly can't look more successful still, but according to Gurba, he needn't stray from his principles in order to realize that added success.
The label started out as a largely rap-focused vehicle for The Joe and his closest friends, but that roster has exploded in its two-ish year existence to encompass 17 artists, a milk run across the musical landscape from Caity Fisher's sorrow folk township to Doug Hoyer's glittering alt-pop city and all stops in-between, with the same unifying theme as always: it's Gurba and friends making the trip.
When it's remarked that having all your friends on your label is a good way of getting them to work for you, however, Gurba flips that notion on its head, saying it's more of a way for him to work for them.
"You get to feeling pretty selfish and narcissistic when you're only ever pushing your own music, especially when you really do love the music your friends are making. You think that they are better than you and could probably be more successful if they would do the same amount of work that you were doing for yourself, for themselves. So I just applied that."
Gurba is of the 'If you build it, they will come' school of business made possible by the internet and all its social networking possibilities. Other business models require huge cash investments in order to stick an album in everyone's face and convince them that it's the album they're looking for; he believes in the approach of indies like K Records: make good records, make sure that people have access to them, and they will ultimately find their audience.
"The idea is not to spend a lot of money convincing people of anything, but using the gravitational force of good music as its number one draw," he says. "Old Ugly is about friends working in unison and, when the rubber meets the road, it's about music. What I want to do is get music out there and play shows and have fun and celebrate that part."