THEATRE: A Smurftacular look at tragedy, loss, and the unanswerable questions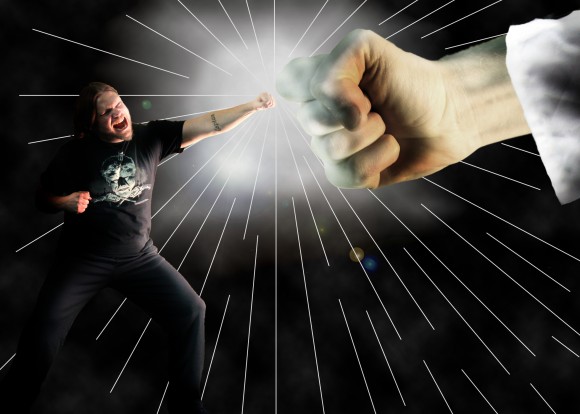 Tragedy strikes everybody from time to time and we all have our own ways of coping.
In Trent Wilkie's Gargamel, he takes a humorous slant on misfortune.
Wilkie, a founding member of Edmonton's Mostly Water comedy troupe, found inspiration in the calamity the was inflicted upon his inner circle.
"My brother was in a nasty accident in London, Ont., in which he sustained a head injury," says Wilkie, "and I saw how he dealt with it emotionally."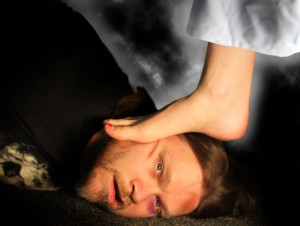 Over the course of 10 years the event took root in Wilkie's mind, eventually erupting into Gargamel, a play Wilkie describes as "60% comedy, 40% tragedy."
In Gargamel, Mostly Water's third production and first full-length story, David Real (Wilkie) loses his girlfriend in a horrific car accident, sustains a heads injury and effectively "loses his shit."
"He's very angry and doesn't know who to blame," explains Wilkie. "He blames God and wants to fight God."
To add to the fire, a spectral Louis Riel is prodding David to get in the ring with the Almighty.
Um, Louis Riel?
"Canada lacks an icon. Riel is the Joan of Arc of Canada," Wilkie explains. "He had visions and was called on by God to be a prophet, then hanged. A piss off for Riel."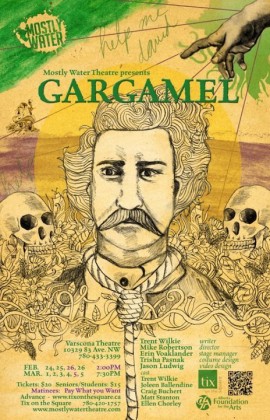 Religion is a fairly heady subject for the usually jocular Wilkie, but the funny-man explains Gargamel is about analyzing individual beliefs without the critical eye frequently staining city stages.
"Just because you don't believe it, it doesn't mean it isn't true. It's selfish to discredit someone else's beliefs," he says, adding his play isn't about religion or if there is a God, but rather the relationship people have with their ideologies.
Wilkie uses Gargamel as a vehicle to examine the way people "try to deal with things are that are 'undealable.'"
In keeping relevant with the modern theatre audience, Wilkie picked an unlikely inspiration to help give definition to his work.
"This is the Star Wars generation and people are refining pop culture to make their own reality," discloses Wilkie.
Wilkie chose his pop culture-apping motif from The Smurfs, the cartoon show featuring tiny blue creatures who were frequently chased by the villainous Gargamel.
"Gargamel would scare the living shit out of me," laughs Wilkie. "He was always trying to catch (the Smurfs) and turn them into gold."
In Gargamel, Wilkie saw the essence of humanity's eternal struggle: "Trying to catch something that at the same time equally wants to elude you." The push/pull dynamic, the fruitless chase, the Ouroboros: it's represented in Gargamel by the idea that "Religion needs people just as much as people need religion."
Along for the ride are Wilkie's Mostly Water cohorts, Matt Stanton, Craig Buchert as well as familiar faces Joleen Ballendine, and Ellen Chorley.
"I invited my friends to play with my baby," says Wilkie on his casting choices, adding he also conjured up a dream team of independent video and theatre people (Jason Ludwig and Erin Voaklander) to add a multimedia aspect to the production.
While Gargamel tests the dramatic waters, the Mostly Water regulars haven't abandoned the yucks yet. The troupe, which has been together for six years, recently garnered attention south of the border when its TLC video spoof was featured on the Huffington Post and Funny or Die websites, going viral.
"It was picked up out of the blue," says Wilkie, "and we were amazed because we had been doing video for years, never really trying too hard at it."
Yet the video received no attention from Canadian media, bemoans Wilkie, who adds the troupe's comedy recordings regularly "kicks the shit" out of more established acts such as Rick Mercer on the Canadian iTunes comedy chart.
Pretty good for a group of sketch artists who never set out to become theatre people, encapsulates Wilkie.

Gargamel opens Feb. 24 (Thursday) and runs through March 5 at the Varscona Theatre, 10329 83 Ave.