MUSIC: For Sister Gray, girl power's just downright shrewd
It's a good thing the three male members of Sister Gray aren't starved for attention.
Because when your band is fronted by two fetching fashionistas in their early 20s, you're not going to get much of it.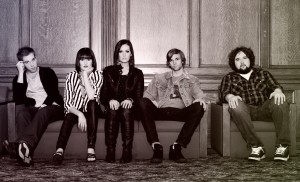 When the indie-rock quintet takes the stage, all eyes are on lead sisters Jenesse and Brittany Graling. "They're hot, what can I say?" quips drummer Kurtis Schultz, who is dating Brittany.
Sister Gray is Sonic 102.9 FM's Band of the Month, making them the first fully female-fronted act to claim that title in the station's six-year history.
To mark the occasion, Sister Gray will play the Pawn Shop Friday night with former Band of the Month Raptors, as well as Stone Iris and Tim Gilbertson.
Luckily, the dudes are cool with being in the background.
"That's just how it is. People take notice to looks," says bassist Ajay Paterson. "It's not that we're ugly guys or anything, that's how it is in the band. Male or female, usually the frontperson in the band is going to get the attention anyway."
Besides, it's not like ladies are trying to hog the spotlight.
They try to get the guys up front in photo shoots, and when Sister Gray shot its first video this month for Close the Night (the catchy single that's currently in rotation on Sonic and climbed CKUA's charts last fall), the gals made sure they weren't the only ones on film.
"What's funny is you would think sometimes there would be, 'Oh man the girls are getting too much attention,'" says older sister Jenesse. "But the guys are hilarious, they're always telling us 'No, we want to make sure the attention's on you.'
"Even doing our music video, they said, 'We want more shots of the girls.' And me and Brittany were like, 'No, you guys get in there.'"
Despite what you may be thinking if you haven't heard the band, the Graling sisters' looks aren't what got them where they are today.
The Millet, Alberta natives have been singing since kindergarten, and competing together since Jenesse was 12 years old and Brittany was nine. They've toured North America with show band Bella Rouge, and today both earn a living as vocal instructors.
The sisters make fine showing of their undeniable talents throughout the band's debut EP Close the Night, as they purge angst and heartache through acrobatic vocal harmonies over synthed-up, radio-ready indie-rock.
The band's innate chemistry has been forged by longtime friendships and a heavy shared involvement in the local music scene.
"We all go to shows, we play shows, and we rehearse. I'm not actually kidding, that's all we pretty much do," says Brittany.
Sister Gray's Band of the Month honour has also led to an appearance on City TV's Breakfast Television. Their newfound local fame has prompted old friends and family members to come out of the woodwork to congratulate the band.
The girls have started to give back, launching a video blog on Facebook on which they held a Valentine's Day giveaway for a pair of their trademark feather earrings (made by their grandmother), and a copy of their EP.