Metro's next Edmonton Tonight keeps things eclectic
Painter Eric Visser, cellist Josephine van Lier, and CKUA music programmer Baba Singh will be among the guests of the next Edmonton Tonight, Friday, Feb. 25 at 10:30 p.m. at Metro Cinema.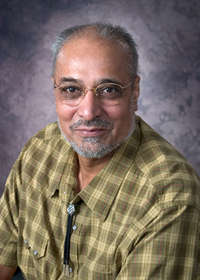 Host Tom Bernier will welcome Visser and van Lier, a creative couple who will chat about how the arts  played a major role in their inspirational and creative partnership. One highlight will include Visser (who is also a teacher and web designer) creating an original piece, accompanied by van Lier.
Also confirmed to guest on the show is Baba Singh, the host of Baba's Grooves and The Afternoon Edition on province-wide, community-supported radio station CKUA. The affable DJ shares his insights on the city and his ability to cater to the musical tastes of his dedicated listenership.
Additional guests include Jaret Sinclair-Gibson, executive director of Sun and Moon Visionaries, a non-profit organization that has been delivering successful community-based arts and cultural programming to urban aboriginal youth and artisans since 1999. Accompanying Sinclair-Gibson will be rapper Conway K, who will be performing a selection from his latest CD.
Additional attractions include a special mystery guest, the "Wonderful Gift Table," additional participation from members of the Edmonton Tonight crew and music from regular turntablist DJ Agile Agilities.
Operating monthly from Metro Cinema (Ziedler Hall in the Citadel Theatre at 9828-101A Avenue), since 2008, Edmonton Tonight is a live-action variety/talk show presented in the classic format immortalized by the likes of Steve Allen and Johnny Carson. Hosted by Tom Bernier, the show features guests—ranging from artists and luminaries to celebrities and local newsmakers—who make their way over to the Hef (a golden, overstuffed sofa) for an evening of late-night show and tell.
Tickets for the show are $10 and available at the door.