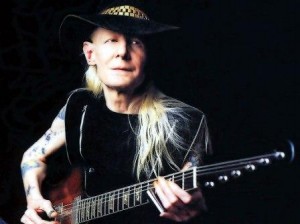 The basic difference between "white" blues and "black" blues is that one loves the blues, whereas the other HAS the blues.
We'll have to make an exception for Johnny Winter, literally the whitest of the white bluesmen, who's sharing a bill with the equally legendary harmonica James Cotton at the Polish Hall tonight. Both have seen their share of stormy Mondays. Both have been at the Crossroads. Both have rued the company of big-legged women bent on taking them to their respective graves. Both have experienced hard luck without which they wouldn't have any luck at all. And you better believe they both have their mojo working – even pushing 70 years old, Cotton from well on the other side (75 and still going strong).
Black or white, ebony and ivory together in perfect harmony, whatever, colour will mean nothing in the presence of these blues masters ­- who both love and have the blues. Good combination.
This show, alas, is SOLD OUT.
Don't cry the blues. Your blues fix may still be obtained at the Winter Roots and Blues Round-up II, running through Monday. It's more of a roots fest than a blues fest, really. We'd recommend the big bloozy blast tomorrow night at the Century Casino featuring David Gogo sharing the stage with Freebo and Grandpa Banana from the Youngbloods. Buy tickets here.