Black Mastiff mauls over log cabin recording session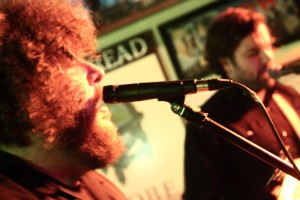 Edmonton's Black Mastiff – at Brixx tonight (Saturday, Feb 26) – have just finished tracking their upcoming album in the wilds of Alberta.
"It was in (bassist) Clay Shea's family cabin in Nordegg," explains singer and guitarist Bobby Yiannakoulias (above, right) while picking up gear from
the band's rehearsal spot in anticipation of a road trip to Lethbridge.
"We set up in a log cabin, which is acoustically a very live space. It was weird to play in country. I'd walk out while (drummer) Allan
(Harding) was tuning up, and 500 meters up the road you would hear it echoing through mountains, because we were facing them. I don't think it was too disruptive to the neighbors, but it definitely traveled. If people knew what they were hearing they could probably decipher it, but too people in neighboring towns it probably sounded like there was a battle going on in Nordegg."
The ten songs culled from their weekend session are for future release, and Yiannakoulis feels they show the band growing beyond the five songs from their self-titled e.p. from last summer.
"Yeah, Allan mentioned before that we've simplified a little, become more focused on the groove. I mean, we're still very riff based, but we're just trying to get beyond worrying about technically wowing an audience."
Black Mastiff have built a reputation as inheritors of a sound somewhere Edmonton metal legends The Smalls and any number of stoner rock outfits, but that's a facile description of a hard-to-pigeonhole group. Even Yiannakoulis struggles with describing where his band comes from and where it might end up, but he has no trouble describing what he's looking for now, which includes a nod in the direction of (AwesomeHots, The Secretaries) singer Amy van Keeken's exploration in Motown.
"I just really dig that music, and it's been my contribution to the band. I've been really affected by it, though I wouldn't compare what we do it – it's more like paying tribute. Somebody else compared us to the band Mountain, which was interesting."
As the band begins to take shape, the songs are morphing into something that better reflects the personalities of all three members.
Shea and Harding, who also do double duty as the rhythm section for Passenger Action, are a tight, taut unit with a propensity for intricate exchanges. They may be toning it down, but the work between them is always thrilling; as for Yiannakoulis, he's still grabbing comparisons as a vocalist to Mike Caldwell of The Smalls, though he's in no way offended by this.
"Ted Wright (of The Get Down) mentioned that the other day as well," he notes. "It's not insulting at all. I mean, are you kidding? You want to compare me to a band that I love? Really? In any event, there are hints of that sound in the sense that Mike and myself are natural born crooners. I'd be self-conscious if you compared me to David Lee Roth, who I grew up listening to, but what are you going to do? That's just the life of a crooner."
With Molten Lava opening, tickets to this show are $12 at the door, or click here.