Pampered at Pampa … but that was the upside
Pampa Brazilian Steakhouse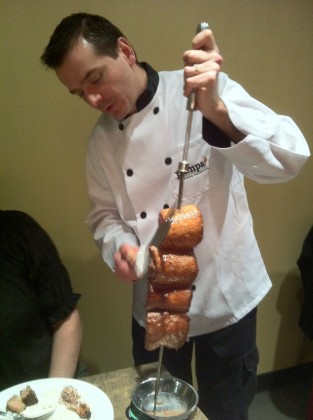 9929 – 109 Street
780.756.7030
Expectations were high for a trip to Pampa, Edmonton's new Brazilian steakhouse. A week after its opening, it has received overwhelmingly positive buzz online.
Unfortunately – particularly given the high sticker price – that buzz seems somewhat premature. Perhaps it was simply one of those occasions when things just don't go right for the restaurant, but the experience was underwhelming, as was the food, like showing up in Rio only to find you missed Mardi Gras by a week.
Pampa sits in the block across from Martini's on 109 Street, just north of 99 Ave. With a contemporary and modern design, it's obvious the owners have spared no expense. However, the numerous reflective surfaces seemed to starkly contrast the use of impenetrable concrete and stone tones, an inconsistency that was somewhat distracting. Bright, attractive, multi-hued walls make a very positive difference,  a middle ground, as it were.
Seating was ample, as the restaurant is huge, but despite many empty tables, later confirmed as unreserved, we were immediately placed adjacent to the toilets, with only a glass partition between us and the people coming and going to lavatory. Surely frosting the glass between the bathrooms and dining area would make sense.
And the absence of any ambient sound – there was no music at all – led to a general dull cafeteria din in the background.
Still, elements of the design were truly impressive: on entering the restaurant, one is greeted by an enormous wall of wines. The lighting is subdued-but-attractive and the sprinkling of stylish red dining chairs added a nice contrast to the room.
At service, Pampa excels. The staff are polite and friendly to the extreme, and the owner and his wife visited numerous patrons during the evening to see how they were doing – although it frustratingly took 15 minutes to pay our bill, as the restaurant only had two credit card machines and a fairly full room.
Then there was the meal.
Essentially a buffet, it turns the tradition on its head by carving multiple different cuts of meat at your table. That's all there is to dinner: the rest of your plate can be occupied by several selections from the impressive salad bar. At a price of $45 per person for "all you can eat", it seemed odd that there weren't at least a variety of regular sides or vegetables, but on the flip side, some of the salad bar choices, including an impressive tabouleh and a basil-rich macaroni salad, were very tasty.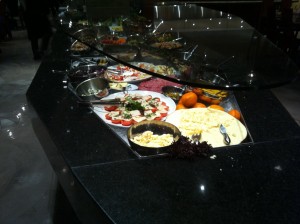 Unfortunately, the star attraction at any steakhouse has to be the steak. And while several of the cuts sampled were impressively prepared, that consistency was sorely lacking across the board.
A segment of pork loin was so hard from being overcooked it was literally difficult to cut in half, let alone eat. That this skewer was sent out – it was visibly obvious that all four pieces on the skewer were similarly leathery – was absolutely unacceptable at this price point.
The chicken was unimpressive, with little to distinguish it from a spit-roasted bird bought anywhere, quite under-seasoned and a little dry. A beef ribeye was salty, with a strip of fat too copious and intrusive relative to the meager meat attached to merely be labeled as marbled.
There were several excellent rare cuts, an eye of round that split like butter, small pork tenderloins, and beef medallions that fairly melted in your mouth. But I can get a superlative cut and cook of regular beef at The Keg any day, and it doesn't cost a quarter of someone's monthly rent.
Dessert again betrayed a lack of consistency. My chocolate mousse on a light sponge cake with tangerine zest was deep, rich and satisfying, the reduction – when applied sparingly – supplying a sharp and flavourful contrast to the dark smoky chocolate (but strangely absent the berry topping it was advertised as having, favouring, instead, an extremely ripe gooseberry.) It was a fine mousse.
However, my dining partner's milky vanilla creme caramel was disappointingly bland, with a mango-and-papaya topping that simply dominated and was far too sweet to accompany such mild content.
Pampa's wine list was impressive, although my dining partner, a wine follower, was surprised when her second glass of Malbec was quite distinctly a different wine from the first she'd ordered, without a word from the server. Not a different vintage, a different wine, with a heavier, fruitier body.
Pampa's heart is obviously in the right place. It's trying something different, and is handling its commitment to service well. But in the end, it was more style than substance, too inconsistent to excel. The bill for two, with just four drinks and one dessert each, was over $160 with tip. While certainly not excessive for a meal of truly exceptional quality, it was far above the relative value of this offering.