Where to put the Goo Goo Dolls – next to the Replacements? Or nestled amongst Matchbox 20 and Hootie and the Blowfish?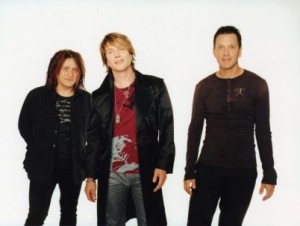 Maybe somewhere in between. We're just putting together some IKEA shelves for our CD collection – where's the damned Allen key? – so '90s. We'll decide where they go after the Goos play the River Cree Casino tonight. They may have a very silly band name it's too late to change now, but the combination of the rugged sex appeal of singer Johnny Rzeznik, the manic energy of his sidekick bassist Robby Takac, the competent drumming of Mike Malinin and catchy four-letter pop tunes like Name and Iris, this band has earned a huge following among rock fans who came of age in the '90s. Those were the days, my friends. We thought they'd never end.
Opening the show will be Steven Page, formerly of the Barenaked Ladies. It has been said that BNL without Page is like Van Halen without either David Lee Roth or Sammy Hagar. Which leaves one question: Which one is Steven supposed to be?
There's something else you can decide at the show tonight.
It starts at 8 pm. Tickets are $59.50. Buy here.