All good things must come to an end – and we speak of of three local worthy theatre productions closing today.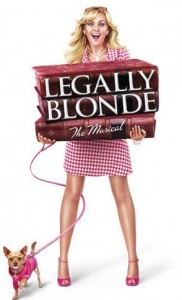 It's the last day for Legally Blonde, the Musical at the Jubilee Auditorium. The story concerns a ditzy sorority chick who shows her ex-boyfriend what-for when she goes to Harvard and becomes one of the greatest legal minds of her generation. And her little dog, too! Two shows today, one at 2 pm, one at 7 pm. Get your tickets here.
The Holy Trinity Anglican Church (10037 84 Avenue) is the site of the last performance of Shipwrecked!, a high seas adventure starring Glenn Nelson, Davina Stewart and Mark Meer. Buy here.
This is also the very last day to see what's left of the Wildfire Improv Festival today at the Transalta Arts Barns. It's the final round of "Wildfire Junior" for the kids at 2 pm. The winner will presumably get to be the next Mark Meer. Buy tickets here.
And remember, when one plays closes, two more open. That's just the kind of town we live in.