And the Oscar for best Oscar party goes to … THE VARSCONA THEATRE!
Thank you, thank you very much. You like me! Right now, you like me!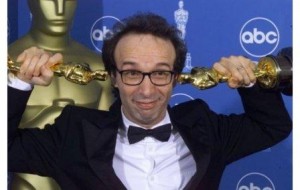 Do you turn to Star Magazine for world news?
Do you cry every time Jennifer Aniston goes through a breakup?
Is your idea of activism wearing a T-shirt that says "Lindsay Lohan is Innocent"?
If you answered yes to any of the above, you surely won't be missing the Academy Awards night. Unless you're actually there, you might as well watch them in style – in Edmonton. Varscona Theatre will broadcast the 83rd annual edition of the film awards on the big screen during a fancy night out, so you Hollywood buffs can revel in all the larger-than-life glitz and glamour. You'll feel like you're part of the red carpet action … except you paid for your night out, nobody knows who you are, and at the end of the night, you'll walk out into minus-a-million degree weather.
Life's a bitch.
The fun starts at 5 pm this Sunday, Feb 27. Your party hosts will be Edmonton's own Die-Nasty improv vets Tom Edwards (below, left) and Matt Alden (below, right), who will mute the painful and frequent commercial breaks to provide live entertainment.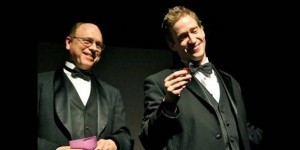 They'll also give out prizes to those of you keen enough to pick the winners in various categories. Among this year's crop are a stuttering king (The King's Speech), a billionaire computer nerd (The Social Network), a bulimic ballet dancer (Black Swan), a well-meaning dream invader (Inception), a guy with his arm stuck under a rock (127 Hours), and many others.
Get dolled up and make some wagers.
Tickets are $20 and are only available at the door or by calling Shadow Theatre at 780 434-5564.
By the way, if you'd rather watch a movie than watch people talk about movies, consider catching a flick at the Empire Theatre in Westmount Centre Sunday night. After this weekend, this theatre closes for good. Read all about it here.