TOM MURRAY: Syl Johnson's soul-stravaganza
I gave up years ago bothering to compile best of lists, at least partially because I can never remember what year an album came out in.
I listen, I throw them on a pile, I forget about them. Maybe I check it out again later, maybe I don't. The nice thing about being a freelancer is that you're under no obligation to keep up on every damn thing that comes out, unless you're under the impression that the world will miss your thoughts on the latest offering from, oh, Taylor Swift.
After that the record may as well have come out in 1974, 1995 or 2006 for all I care; by that time I'm swooning over a crackly copy of a Shirley Ellis or Bram Tchaikovsky record that I stumbled on by chance. Kanye West? Was that 2010?
I also don't believe that a record can be honestly appraised after only a few weeks worth of listening; it takes some time for the music to sink in. That's why I'm going to go ahead and declare Syl Johnson's Complete Mythology as the best record of 2010 AND 2011.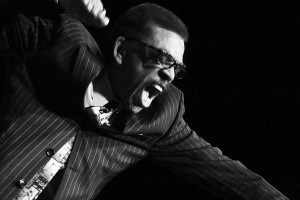 Not only have I already heard and loved many of the songs on this four cd retrospective on soul and r 'n' b compilations without knowing who it was, the ones that I've never caught before are already killing me months later.
It's not actually a complete set, in truth, focusing as it does exclusively on material released until 1971, when he was signed to Hi Records. Those Willie Mitchell produced tracks are excellent, of course, but his tenure with the minor Twinight label in the late '60s had some of the best soul going: Hot Pants Lady, Come Sock It To Me, Soul Drippin', I'll Take Those Skinny Legs. Four songs among 81, just off the top of my head; everything else I've heard has left a grin on my face. Choosing Johnson songs at random on the college radio show I co-host simply from the title has been an instructive exercise. Not only has he never let me down, he's blown me away.
Considering the price they're asking for this over at the Numero Group (noted for their Eccentric Soul series), somewhere around $60 to $80 depending on where you look, this might seem like a steep investment.
You might be just as wise to hunt down some of the old records themselves, especially Is It Because I'm Black?, if a flea market somewhere around you happens to hold one. The Complete Mythology is a complete remastering of his early oeuvre, however, and comes with six vinyl albums and four cds, plus a 52 page booklet. Not a bad deal by my estimation.