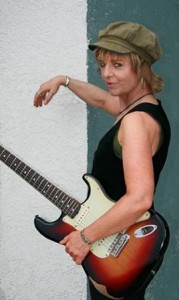 Yet another week in the Big Onion starts with the blues.
Forget it, buster! You and your blues dog buddies been out every night bloozing it up since last Thursday. You're not going anywhere. That snow ain't gonna shovel itself.
Please, baby, please, just a little more? Debbie Davies is in town, starting a six-nighter at Blues on Whyte tonight. Sweet like cherry wine, strong like Tennessee whiskey, she plays electric blues guitar like Albert Collins, loves those slow grinding 12/8 ballads that sound so fine on a five-beer buzz and she shouts like there's no tomorrow, even though she's there all week. Debbie is one hot blues mama. She got her mojo working. Don't do me wrong, baby. I'm walking right out that door and straight to the honky-tonk on the southbound train. Ain't no hard luck and trouble gonna follow me to my grave. I have the blues. I need the blues. The blues will cure my blues. It's complicated.