Freedom to Read: Putting the "ink" in kinky
It was a bitterly cold night on the east side of Jasper Avenue, but things were heating up inside the ARTery as the Edmonton Public Library hosted an evening of erotic literature readings as part of Freedom to Read Week.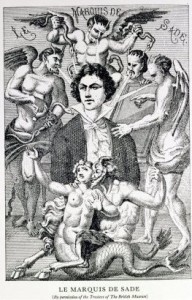 It was the library's first time hosting an event like this, and while it may have been a little nervous, it wasn't showing it. The ARTery is a licensed venue, so the library was able to have a couple of glasses of red wine to calm any jitters it might have been feeling. Still, its anticipation was electric and throbbing. It had waited a long time for this night to come. It had yearned for it. A couple of dozen people were there watching, too, but the library wanted it that way.
The library, it turned out, was very kinky, and was turned on by voyeurs.
Timothy J. Anderson, who at one point wrote something so depraved that one of his books of poetry prompted the former Alberta Report magazine to call for restrictions of government arts funding, eased everyone into the evening with a Bible reading: The Song of Solomon. Never before had the voyeurs heard "mound of myrrh" and "mountain of frankincense" referred to in such an erotic fashion, and they giggled with pleasure from the preacher-fetish foreplay.
Next, performer Linda Paksi steamed up the windows with the Marquis de Sade's "There is Room for Two," a tale about what happens when a woman's two gentlemen friends show up at the same time. Let's just say that the "room" has a front door and a back door!
Anderson again took the microphone, and holding it firmly, recounted his own true-life account of hooking up in Singapore with a tan-skinned, muscled Malaysian dock worker in a disco.
"I hailed a cab and we headed for the Excelsior Hotel," Anderson teased. "I look at him and wonder if he's a hustler and wonder what he'll do when he asks for money and I don't give him any."
But the Malaysian man wasn't a hustler, and Anderson wasn' just a tease. He went all the way with the tale – and with the Malaysian as well!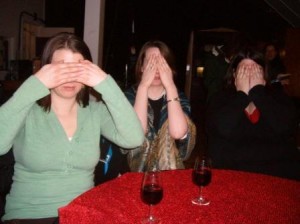 At this point the library was dripping with sweat and needed an intermission. During the break, librarian Anna-Marie Klassen and library assistant Lori Walter, who chose the evening's selections, followed this GigCity reporter to a quiet corner for a private threesome. Stereotyping is wrong, wrong, wrong, but sometimes a stereotype turns out to be true. Librarians are smart, and this pair demonstrated it by explaining why a library-sponsored evening of erotic literature fits into Freedom to Read Week like a you-know-what fits into a you-know-where. All of the evening's selections, they explained, had been victims of censorship, repression, banning or misclassification.
"In a way I think we're preaching to the choir, but it's important to have this as a library event because it legitimizes it. It says it's OK," Klassen said.
Censorship still occurs, Walter noted, citing the court battle of the Little Sisters Bookstore in Vancouver in 2000, when Canadian customs officials seized material bound for the business, which catered to gay and lesbian customers, because it was deemed obscene. Freedom to read is still a fight, and the Edmonton Public Library is one very sexy freedom fighter. With the break over, all its inhibitions were cast aside and it was primed to reveal everything.
Paksi stepped to the stage with a raucous tale by a local writer who uses the pen name "Lacey Dobkins." It was about a television production assistant who gets to prep a movie hunk for a talk show appearance. The pair end up alone in the makeup room and the hunk takes off his shirt, then attempts to fix a loose thread on the production assistant's skirt.
The voyeurs hooted, and squealed with ecstasy. A chair or two may even have been knocked over.
Note-taking skills failed at this point. A reporter only has two hands.
"…cupped my ass … black panties became wet … two fingers thrust … wanted him with all my sexual being!" is how Paksi's reading appears in my notebook.
The library took shallow, gasping breaths, moaned and was spent.
Anderson delivered the pillow talk in the form of Leslie Feinberg's "Stone Bitch Blues," which gives an emotional account of a trans-sexual woman's attempt to pose as a man during a sexual encounter. Anderson revealed that his own nephew, who until only recently used to be his niece, recently got married in a joy-filled ceremony.
"If books like this hadn't been available, hadn't been possible…" Anderson paused, his eyes filling with tears."There's a high suicide rate out there."
Related articles