REVIEW: If they're not Famoso yet, they should be
FAMOSO NEAPOLITAN PIZZERIA
11750 Jasper Avenue , Edmonton (and two other city locations)
780.732.0700
Over the last 40 years or so, I have been fortunate enough to eat pizza in all manner of places, and in all manner of styles.
Served by an aquaphobic Flemish engineer in west Africa, with his lovely wife coating a wonderful, thick, bread-like crust ….with smoked oysters and palm oil.
Lovingly crafted by a wizened Greek lady in Athens, whom everyone called Mama, but who owned a joint called Papa's.
In a greasy spoon on Sherbrooke Street in Montreal, with a giant matzoball centre and much, much more Labatt 50 than any 14-year-old should really be allowed to drink.
And through all that time, I can safely say, most of the pizza has been utter, utter crap.
Pizzerias used to be the cornerstore of restaurants, owned by an elderly couple in the neighbourhood named Sal and Irma, slinging out pies for the masses like Danny Aiello in "Do The Right Thing," only with less racial tension and violence and more underage drinking and smoking.
A pizza was hand-tossed, and the rim was rolled up a little, so that it puffed and became chewy. The base was super-thin but more firm than crispy, and the mozarella was one of the primary features. The pepperoni was from some local deli and oozed this weird orange oil that actually added to the flavour of the pizza.
At some point about 25 years ago, chains took over. Mass-production using pre-frozen pie shells and pre-measured dollops of flavourless, skim-milk cheese guaranteed that everyone got the same consistently mediocre pizza, every time. Perhaps a local chain diverged from this by adding tomato slices, or giving you crazy-ass three-for-one deals, but essentially the forumla remained intact.
Plus, the prices actually went up as they tried to make each pie bigger, heavier and crappier.
Thank whatever deity looks over pizza then, for Famoso Neapolitan Pizza, a growing chain that has managed to recapture what has been lost in the pizza industry.
We visited the Famoso at Jasper and 117 St., next to the popular nightclub On the Rocks, one of four in the city. Though small, with seating for perhaps 60 people, the restaurant is tastefully decorated. The size probably isn't a huge issue: the restaurant does speedy without compromising quality, so it's takeout is likely busy during the day, fitting well with its deli-style ordering at the front counter. The pizza is flash-baked at 900 degrees in a kettle oven, taking just 90 seconds to bake and all of about five minute to produce from start to finish.
Its menu is vibrant, supplementing the wide range of Neapolitan-style pies with sandwiches for vegetarian and carnivore alike; my dining partner had the Sophia Loren, a densely-packed veggie sandwich with mushrooms, peppers and provolone cheese, grilled on whole wheat, with a bowl of the thickest, tastiest tomato bisque either of us had had in quite some time. The sandwich and salad menu was extensive and impressive, and there are a handful of classic desserts too, including a specialty Tiramisu and the "Dolce and Banana", an amazing banana split with gelato, caramelized brown sugar and pecans.
The first and most obvious difference between the quality of the food at Famoso and many – many – other chains in the city was the freshness. The bisque exploded with tomato flavour, the tartness saturating your mouth.
Similarly, the tomato sauce on my margherita tasted as if the tomatoes had been diced and crushed moments earlier, with none of the acidity of mass-produced sauce. The whole-milk mozarella was so creamy its taste lingered for an hour after the meal. The basil was fresh leaf.
And the crust? The crust was that old-fashioned light, puffy dough,with the rim rolled up just enough to have some thickness and the base thin and firm, but not crunchy.
It was, far and away, the best pizza I've eaten in Canada, perhaps anywhere, since the days of Lacoste shirts and Sperry Topsiders. And it cost all of $11 for an 11-inch pie. In fact, lunch for two with two imported beers ran less than $34 and was at our table in under 10 minutes.
Famoso's corporate credo is that it adheres to a specific code of freshness set down in Napoli. Its tomatoes are Italian and the mozarella is always whole-milk. The crust isn't heavy, so each ingredient is applied sparingly, with the benefit in how the flavours combine. Consquently, eating a whole pie on one's own is guilt-inducingly easy.
The pizza selection is impressive, with offerings from Top Chef reality show winners Deb Pirker and Correna Stride, and an award-winning pie from one of the chain's own. Here's one of the typical offerings (pictured at right):
PROSCIUTTO ARUGULA – $14.50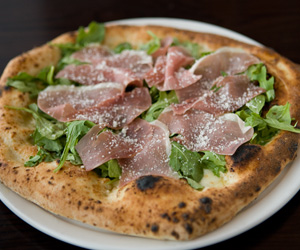 Fresh mozzarella and fresh basil. Baked, then topped with arugula, prosciutto, sprinkle of pecorino romano.
It's not complicated. It's just fresh, and delicious, and they have about 20 others, plus options to build a favourite.
The chain is quickly getting national recognition from the pizza industry, and given the mere handful of minutes it takes to pick up a pie, Famoso bears weighing whether to ever order another delivery pie again.
I will not only be going back, I will be singing its praises for some time, and now face the thorny problem of having to give equal review time to other pizza joints, knowing the entire time what I will be missing.
Related articles