GET YOUR GEEK ON! LeVar Burton to 'make it so' at local convention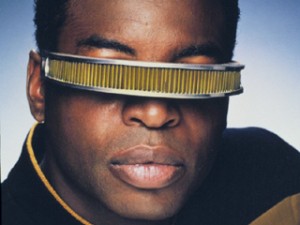 When the captain ordered "make it so!" it was often LeVar Burton who jumped and made it so. And so it was on Star Trek: The Next Generation, which is looking pretty quaint in reruns today – and yet the Trekkian fame lives on for this award-winning actor.
See him live and in person Sunday, March 20 at the Edmonton Collectible Toy and Comic Show in the Shaw Conference Centre.Geektastic!
Just kidding. This looks like a swell event for fans of Star Trek or anything else cool, featuring more than 25,000 square feet of toys, comics, collectibles and much, much more. People watching should be fun.
In addition to his well-known Next Gen role, Burton was an advocate for literacy as the host and executive producer of PBS's Reading Rainbow, and back in the day famously played the role of Kunta Kinte in the ground-breaking TV series on slavery and the African-American experience: Roots.
Tickets to this general admission event, running from 10 am to 5 pm Sunday, March 20, are $10. Kids under 12 are free!
Related articles