SYSTEM OF A DOWN HERE MAY 10 – area metalheads rejoice
Why don't presidents fight the war?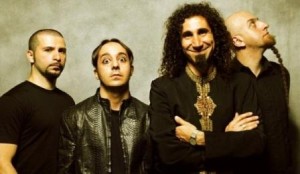 This is just one of many good questions posed by System of a Down, possibly one of the greatest modern heavy metal bands ever. No, not possibly. It is the greatest. Argue all you like, dudes. No one's going to hear you at the band's highly-anticipated concert in Edmonton, Tuesday, May 10 at Rexall Place. Tickets go on sale Saturday, March 5 at 10 am – here.
What makes System so great, you ask? We'll tell you. It is their potent, creative combination of fast, ferocious beats – some bands forget that if heavy metal ain't fast, it gets boring real quick – with vocals that wouldn't be out of place in a gypsy operatta (thanks to outrageous Armenian-American singer Serj Tankian), topped by brutally honest, sometimes cruelly sarcastic lyrics that speak to many of society's worst problems. In short, it is speed metal with both message and melody. Imagine. War and the corrupt media are but two topics broached on the band's brilliant 2004 record Mezmerize (and the somewhat less brilliant Hypnotize in 2005) before System took a hiatus. They announced a reunion last November and have been teasing their fans about a tour ever since. Well played, boys!
Speaking of gypsy vibes, opening the show will be the equally great if somewhat less famous Gogol Bordello – a band that really must be experienced to be believed. Enjoy.