Death metal veterans preach Canadian heavy, tonight at The Starlite Room
Posted on March 2, 2011 By Chad Huculak Music
The members of Montreal death metal band Kataklysm are learning to live with a little less alone time on the road.
To celebrate two decades of metal mayhem, a film crew is following the band through 2011 to produce a documentary DVD dubbed The Iron Will: 20 Years Determined.
"We're in southern Europe and the film crew is with us pretty much every day, which sometimes gets kind of annoying because you feel like you have no privacy sometimes," says guitarist Jean-Francois Dagenais. "But in the end I think it's going to be a great result."
Tonight, Kataklysm and crew will make their way to the Starlite Room alongside openers All Shall Perish , Decrepit Birth, Conducting From the Grave and Abysmal Dawn.
Kataklysm has cemented itself as one of Canada's biggest extreme-metal exports over the years, spreading a style the band refers to as "northern hyperblast," marked by drummer Max Duhamel's turbo-charged blast beats.
This year, the quartet will represent Canada at summer festivals across Europe and on its first trips to South America and South Africa.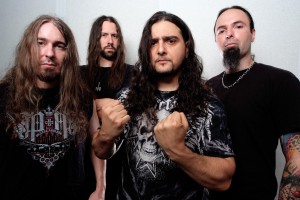 "Everywhere in the world, we feel like we're bringing the Canadian flag, for sure," Dagenais says in his prominent French-Canadian accent. "We're pretty proud of our roots. We always talk in good ways about the Canadian scene and Canadian bands in general, we try to promote as much as we can."
Despite the band's jam-packed touring schedule, Dagenais likes writing and recording more than anything, and he never stops doing it on the road.
Aside from writing for Kataklysm and the band's side project Ex Deo, Dagenais mixes, engineers and produces for other metal bands. Acts he's worked with include Quo Vadis , Despised Icon and Malevolent Creation.
Working with other artists continuously provides Dagenais with ideas for his own compositions, which has helped him keep things fresh for Kataklysm. It's especially helpful in the sometimes-rigid framework of the death metal genre, where subtle structural changes are key.
"Last record (2010's Heaven's Venom), the thing I worked the most on was the song arrangements. That was a big thing for me, to make sure it's still interesting and the whole weird tempo shifts and song arrangements that would come off (as being) out of the ordinary for us," he says.
Kataklysm keeps its tours interesting by traveling with bands from other scenes outside the death metal world. This can be a recipe for violence, but Dagenais says heavy music lovers have become more accepting of each others' scenes over the years.
"I saw more fights when we first started touring with hardcore bands or stuff like that, in the late '90s, early 2000s. Because I don't think the fans were really ready for those kinds of crossover tours," he says.  "We toured with bands like Shai Hulud in the States in those years, and some fights broke out and some nights we had to stop playing and try to get the (crowds) under control.
"Nowadays I think the fans are getting more and more open-minded."
To complement the documentary, the DVD – set for a 2012 release – will also include a full performance at this year's Summer Breeze Open Air festival in Germany, where Kataklysm will play tracks from each of its 10 albums to a crowd of 30,000.
When all is said and done, Dagenais figures it will be worth having the film crew watch his every move for a year.
"I know a lot of my friends kept posters or videos or things; I haven't kept many things," he says. "The DVDs will be something I want to keep for myself. If ever I have kids one day I can show my kids what I did."
Related articles