Hot Picks, March 2
We've got a great idea for Down With Webster – a Juno-nominated, seven-piece, rock-rap group from Hyphen-ville, Ontario playing tonight at the Edmonton Event Centre.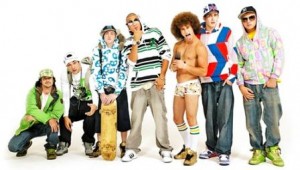 You remember their hit? Highly anticipated at this show will be the inevitable performance of Rich Girl$, which is a rappified version of the Hall & Oates 1977 classic Rich Girl – and with a clever $ added at the end. Which one do you think is better?
Anyway, here's the idea: A hip-hop version of Paradise Skies. This is the only song left – aside from the two mentioned in the famous Onion article – that hasn't been sampled by rappers. You could call it Down with Max Webster. Guys (they're actually from Toronto's famous Queen Street scene): you can have this idea for free. We're here to help.
Opening will be Sweet Thing and the Envy. Tickets to the show are $25 and still available here or at the door.