Ceili's open stage a comedy gym for local performers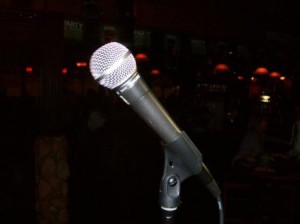 Chris Ianson, the night manager at Ceili's Irish Pub on 104th Avenue, finds himself in a pickle on Tuesday nights when 9:30 rolls around and the free comedy is supposed to start.
Frequently, the Oilers have been playing on Tuesday, and on this particular night every one of the bar's dozen screens is tuned to Sportsnet where the Oil are at Rexall and are tied 1-1 against Nashville. Ianson can't just turn off the jumbo screen that's behind the stage. Even though the comics who are scheduled to go on tonight are professionals and appear at comedy clubs in the city, there's no guarantee they'll kill.
For instance, Tyler Hawkins, a regular Tuesday night performer who's waiting waiting patiently at the bar, won a Best Homegrown Talent award at Just For Laughs in 2008 and has been on Comedy Now on CTV. But Hawkins tried out some new material here a few weeks ago and bombed. His jokes were all about professional wrestlers in the WWE, and no one in the audience had a clue who he was talking about.
This is still a bar and the comics all understand ­- Hawkins included – that hockey comes first and that most people are here to drink.
"When I was that age I was in a fraternity," Hawkins says of a young group at one of the tables. "I was drunk all the time."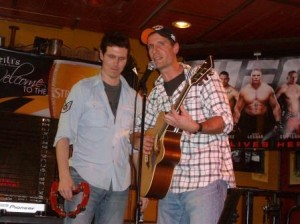 The way Tuesdays work at Ceili's is two local comedians, Ryan Paterson and Jordan Chyzowski, determine the line-up in advance, and in order to grant a spot, they either have to know a comic's work or be convinced the comic has the chops to do a set. The only people who get paid are the master of ceremonies, and a headliner who performs the final 20-minute set.
Hawkins doesn't get paid for any of the short sets he does on Tuesdays. But he feels he has more freedom to experiment, and knows nobody will cut his mike off if he goes a few minutes over, which he says would happen at a regular club.
"There's less pressure to put on a perfect show, there's less fear involved," Hawkins says of the free shows. "It's also a much younger crowd and they're more accepting in ways. Nobody is trying to derail the show or interrupt. At clubs it's different. There's hecklers."
There are still hecklers at Ceili's. But mostly it's the comedians delivering the barbs from the floor, which happened on this night when the first comic explained that he was Australian and would soon be returning home.
"Let's hope you stay there!" boomed a voice from the back, kind of like Stadler or Waldorf on The Muppets.
Because it's a bar, material tends to be dirtier. And if you go more than once, you undoubtedly will see a comedian repeat some material. Each time, though, it goes a little differently.
Scott Belford gets a lot of laughs every week with a self-mocking bit about his long hair and beard, claiming that Muslim women are attracted to him because he has a "bad boy" Jesus thing going. It's tighter this week, though, and Belford manages to segue into a new, even more edgy bit about how if he had AIDS, he would take pleasure in being bitten by a mosquito because it, too, would get AIDS.
"It would go home and give its mosquito wife AIDS, and she'd give it to the mosquito milkman. And the first mosquito would say, 'You whore!'" Belford says, getting laughs, though some of them are nervous laughs.
"It's just a joke," Belford soothes. "There aren't really mosquito milkmen."
The bar setting does have drawbacks. There are frequently large groups of people who show up and have no clue comedians would be performing, and they carry on talking during the sets. At half the tables, it's impossible to even see the stage. Barbara May, who performs paid shows at comedy clubs, sits at the bar and explains that the club audience is there to watch you, which she says makes it a lot easier to hold a crowd's attention. Club audiences turn off their cellphones, she says.
"I don't know why they come here. I guess they know that if it works here, it's going to work in a club," says May about the procession of comics taking the stage.
"This is like the gym. This is where they go to work out."