It's just too cold: Star Party moved to City Hall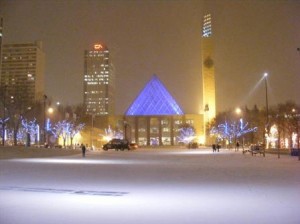 Leave it to Edmontonians to make the best of beastly weather – but sometimes it's all just too much. The Winterlight Festival's Star Party, which was supposed to be taking place at Elk Island Park this Saturday, has been moved due to predicted overcast skies and severe cold. The event will now take place at City Hall starting at 6 pm.
The "Plan B" version of the Star Party won't have outdoor telescope viewing, but up to 20 area astronomers will still be donating their time and sharing their vast knowledge of heavenly bodies. The festival component will be continued, with a variety of cultural activities and displays, presentations and activities for kids, many of them indoors.  Admission – and hot chocolate – is free for everyone.
Check Winterlight or the Twitter feed @winterlightfest for updates on the day of the event.
PLAN B – FROM OUTER SPACE TO CITY HALL: STAR PARTY SCHEDULE
City Hall: Main Hall
6 pm – Welcome and opening remarks: Blessing by Betty Lafferty/Minnie Freeman (Elders), remarks by Sherrilyn Jahrig (Winter Light) and Scott Nesbitt (Parks Canada).
6:30 – Holes in the Sky: Kathleen Houston (craft), Minnie Freeman (Inuit elder), M.J. Moses (artisan)
7:30 – Music and Dance: Angela Miracle Gladue, Rocky Morin
8:30 – Nightscape Photography and Astro Gear: Yuichi Taksaka, Peter McMahon
Heritage Room
6:30 – Language of the Stars: Betty Lafferty, Jeanette Long
7:30 – Wilderness Astronomy: Peter McMahon, Yuichi Takasaka
8:30 – Deep Sky Connections: Rick Huziak, Walter Quinn, Ben Moses
2004 Room
6:30 – Bringing Black Holes to Earth: Dr. Sharon Morsink
7:30 – Solar Wilderness: Dr. Erin Hauck-Walton
8:30 – Earth from Dust: Dr. Warren Finlay
Tipi
6:30 – Visiting in the Tipi
7:30 –  Under the Stars: Walter Quinn, Ben Moses
8:30 – Drum, Story and Song: Sherryl Sewepagaham, Richard Van Camp