Deja vu all over again as Supertramp hits Edmonton June 5
Supertramp is coming!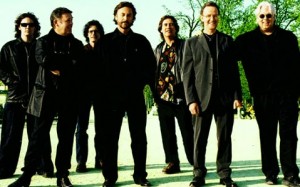 Now we know what you're saying: Supertramp? Weren't they just here? Are there two Supertramps? Have the two parallel universes collided? Help!
Relax. The confusion you are feeling is natural. It's common in classic rock circles to ask: who the bloody hell is in my favourite band now?
The "real" Supertramp, which includes basically everybody except Roger Hodgson or people who may have left or died, is coming to Rexall Place on Sunday, June 5. Tickets go on sale Friday, March 11 here. It is expected be a big, sumptuous arena-rock show filled with wonderful Supertramp memories, plus maybe a few from their "new" album. Last time through Edmonton, Rick Davies took about 45 minutes before playing a single song anyone recognized – so don't sweat it if you're a bit late. Then again, the latest Supertramp album is a live album, so you just never know. Don't want to miss Dreamer now, do you?
The "other" version of this legendary band is of course Roger Hodgson, who just played a show at the smaller River Cree Casino on the weekend. He is allowed to sing Supertramp songs as he did before, but he cannot use the band name in any promotional material or even utter the word "Supertramp" at any time during the show. We think that's right. Or maybe not. Whatever.
Can these irascible British prog-rock fogeys patch up their petty differences over a few million dollars and reunite for real? Not until hell freezes over, probably. Typical. The confusion will continue.
Coming soon in our fantasy universe: Reunionpalooza starring reformed Supertramp, the Eagles, Oasis and Pink Floyd ­- with all original surviving members. Tickets are available on the dark side of the moon.