Hot Picks, March 7: Weird week ahead!
We look forward to another week filled with weird and wonderful events in Edmonton – hot roller derby girls doing a play with Northern Light Theatre, elephants working for peanuts at the Shrine Circus, Steve-O from Jackass doing stand-up at the Comic Strip. Come to think of it, this week is a bit stranger than usual.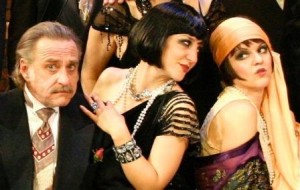 Tonight, though, we start with the blues yet again – as another practitioner of musical hard luck and troubles takes the stage at Blues on Whyte for another six-night stint. It's Big Dave McLean this week, all the way from the deepest, darkest heart of the Canadian blues – Manitoba. No cover tonight.
Not far away at the Varscona Theatre is another Monday tradition on a night when most other theatres are dark: The Die-Nasty live improvised soap opera. They're doing the "Roaring 20s" for this, their 20th season. Man. That's a lot of pratfalls under the bridge. If you've never seen this remarkable theatre improv project featuring seasoned local and visiting actors (remember it's usually an off-night, so you never know who you're going to get up there) who make up every single scene on the spot, do yourself a favour and go tonight. This is a rare place where audiences get to watch actors really PLAY. Tickets are $12 ($8 for Die-Nasty members). Buy online here or at the door.
Make a whole, weird night of this: By the time Die-Nasty is over, the blues will just be getting started down the street.