PREVIEW: At the Artery, Nu Sensae does it up Old School
Forget e-mail. Vancouver punk duo Nu Sensae is connecting with its fans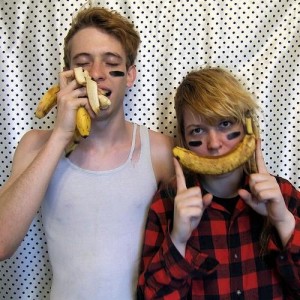 the old-fashioned way.
The band launched a fan club a couple months ago, and has already packaged and mailed out flyers, buttons and other goodies to fans all over the world.
Nu Sensae will show you just how much noise two people can make with a drum set, a bass guitar and earsplitting female vocals when they tear up the Artery, 9535 Jasper Ave., Saturday (March 12). B-Lines , Geister , Grown Ups and White Lung will open the show.
"We have I think 300 and something members now in eight different countries, from New Zealand to Denmark, there are people in Switzerland and all over Europe, but mostly in the States," says drummer Daniel Pitout.
"We have a lot of people on our fan club from New Zealand; I don't really know where the connection is there. There seems to be some cool kids in New Zealand."
Pit out and singer/bassist Andrea Lukic assemble the packages themselves and send them out free of charge.
"It's kind of expensive for us to do it, but I think it's just as important as putting money into making merchandise or tour. We've had a really great response from it, and it makes us feel really good, having a direct contact with people who like what we do," Pitout says.
"I like bands who have time for people that have time for them."
It's hard to fathom how the 23-year-olds find time for the fan club amid their tight touring and recording schedules; their most recent recording being their 2010 album TV, Death and the Devil.
The busy pair is well known in Vancouver's alternative music scenes, but not just from the pissed-off, grungy punk of Nu Sensae. Pitout also handles guitar and vocals in a band called Eating Out, while Lukic fronts the band Heavy Chains.
After Nu Sensae's current jaunt wraps up, Pitout hits the road for a month with California garage-rock act Shannon and the Clams.
In other words, the two don't spend a lot of time at home.
Nonetheless, Pitout – who moved to Canada from South Africa in 2002 – has fond memories of receiving packages from bands like Sonic Youth and the Breeders growing up, and believes the fan-club mailout is a tradition that must live on.
"I kind of had the idea because I have a lot of respect for, and I really love, bands who used to mail out stuff to their fans. Like a lot of the riot grrrl and queercore (bands) used to do that," he says.
"The Internet has made everything really accessible and convenient, which is great to an extent. But I think there's something lost in receiving actual mail.
The duo's extensive time spent together on the road is made easier by its unshakable dynamic; Pitout and Lukic have been close since junior high, when they told their schoolmates they played in a band called Nu Sensae before either of them had actually learned to play an instrument.
Nonetheless, Pitout doesn't rule out adding more ingredients to the mix one day.
He admits there are limitations to working with four strings, drums and a hell of a lot of distortion.
"We don't have any like, duo pride or anything like that. I generally actually don't even really like duos," he says. "Especially being a drum and bass duo … it's really hard for us to write new material. We've got a lot of songs now and every time we write for a new record it just gets harder and harder; everything starts to sound the same.
"Who knows. Maybe we'll be come a trio, or have four people. Or we'll become a symphony or something."
Tickets are available here or at the door.