Alberta Party leader ready to rumble at Roller Grrrls
You know that Bob Dylan song Blood on the Tracks?
It's all about the roller derby.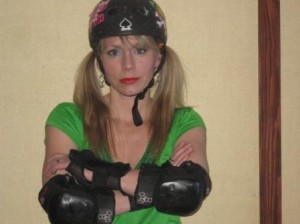 OK, so there's no such song (it's the name of the album), but there ought to be – because it could be the theme for Edmonton's first (and possibly last) roller derby team comprised of theatre people under the delusion they be roller derby girls. They call themselves the Average Joes and play their first (and possibly last) match with an actual roller derby team, the E-Ville Agents, this Saturday night (March 12) at the Kingsway Air Hangar. The event is called Roller Grrrls, a fund-raiser for Northern Light Theatre.
The Average Joes are going to get their asses kicked. This fresh meat is going to get jammed so hard there's going to be mascara on blood-stained wheels of the E-Ville Agents, who will leave their hapless opponents with flaming fishnet rash that'll last for a year.
Let it be said that there is nothing hotter than female roller derby action.
"Short-shorts and fishnets!" chirps Ellen Chorley, artistic associate of Northern Light by day, a jammin' roller mama named "Crash Corolla" by night. She and her theatre friends, including Alberta Party leader and local actor Sue Huff, got the idea for this stunt while watching old roller derby footage, which inspired them to seek out the E-Ville Roller Derby, which has matches about twice a month. One game and the theatre girls were hooked.
"It was so exciting, so fun, the girls were so tough," says Chorley. "We love that. We wanted to do it, too. Then we thought, what if we challenged them to a game?"
The Eville Girls were most accommodating. Chorley and her associates underwent several weeks of intensive training at Fresh Meat, Eville's boot camp for new recruits. They learned how to fall properly, how to jam, block, check, hip whip and bravely wear the jammer helmet panty. Hey, we're not making any of this up. Again, hot. And fun, but safety first. Chorley reports that after her first practise bout she was covered in bruises. "It's a lot harder than it looks." Being theatre girls at heart, the Average Joes didn't need any help in the costume department – short-shorts and fishnet stockings is just the beginning; one must accessorize (it's nice to see a local theatre event where women are wearing this sort of thing for a change).
One important skill learned at Fresh Meat: The art of "talking smack." You insult your opponents, your opponents insult you, it gets the drama flowing. For example, the Average Joes called the Eville Agents "bitches" and said "you're going to suck so hard you might as well be vampires." The Eville Agents came back with a suggestion that the Average Joes might be better off doing West Side Story lest the crowd see "theatre geeks bleed real blood."
There's one thing theatre people have in common with roller girls: a love for drama. Just one thing. What you say to an actor before she takes the stage SHOULD NOT be said before this particular gig  – "break a leg."
Tickets to Roller Grrrls – starting at 7 p.m. this Saturday, March 12 at the Kingsway Air Hangar (11410 Kingsway Avenue ) – are $20 and available only through Northern Light Theatre. Call 780.471.1586 for details.