REVIEW: It's not home cooking, and that's entirely the point
D'Lish Urban Kitchen and Wine Bar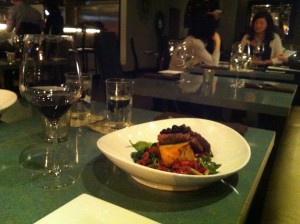 10418-124 St
780.482.2242
It's a cardinal sin for a food reviewer to look at the work of others, particularly in advance.
In this case, it was a browse through comments about D'Lish Urban Kitchen and Wine Bar on a popular review roundup site. After complaining about the size of the portions and the relative inability to share Tapas among a large group, the writer noted that these diners are "real foodies" who wouldn't be coming back because the restaurant does not "hold true the essence of good food: accessible, unpretentious, and delicious."
What rot. What an insult to such fine fare! Kind of a startlingly banal redefinition of "good food," too! There are few restaurants in the city of Edmonton that so nakedly display the amazing palate of the chef. D'Lish's food is not "accessible", if that means "unchallenging." It is not "unpretentious," if that means dull.
But it certainly is delicious.
The menu is a challenge laid down by Chef Brittany Watt, multi-flavoured combinations that, on the face of it, are so ambitious as to be brazen: their individual components are far less impressive than the blend of flavours on your plate. This IS designed to challenge and enrich your tastebuds, NOT to just be simple. Simple is fine; simple is delicious.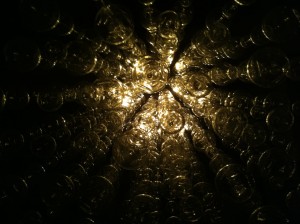 But simple is not everything.
Beyond the range of interesting Tapas, the dining menu includes just five meat dishes and a small vegetarian section. Each, however, is a panoply of sweets and sours, deep, rich meats and creative sides.
My dining partner's rare beef tenderloin, with black currant demi glaze, yam and potato gratin, wilted spinach and sauteed mushrooms, was an exceptional cut. The flavour of the supple tenderloin stood on its own, but combined with the tartness of the black currants and the slight iron underbite of the spinach, however, it moved to a whole other level.
My rabbit roulade told a similar tale; by itself, the roulade — a circular rabbit meat terrine with chorizo sausage in the middle and hazelnut — was tasty but nothing mind-blowing. However, combined with a parsnip puree and an apricot stuffing, the smoky taste of the rabbit contributed to a melange far superior to its sum parts.
If "simple, fresh, food" ala Jamie Oliver and Gordon Ramsay is what you seek, go home and cook something, for crying out loud: the food at D'Lish is exactly why I go out to eat, to experience something I couldn't get anywhere else or make myself, as much an artistic expression of the chef's tastes as an attempt to provide sustenance, combinations that surprise and delight my tastebuds.
Unsurprisingly, dessert was above average. My partner had "Olivia's Taste," a surprise mix of five of the chef's favourites. It included a cloud-light chocolate souffle, a fine baked cheescake, rasberry mousse and a slice of a rich chocolate cake. Each was exceptional.
I settled for a slab of the cheesecake, which came adorned with the rasberry moussse, drizzles of dark chocolate sauce and fresh mint leaves. Again, each was fine as a standalone flavour, but when blended, the mint simply kicked up the tartness and undercurrent of rasberry one experienced when the cheesecake and mousse were blended.
Superb!
With several drinks and coffee, dinner for two was about $120. The service was attentive and pleasant, though not especially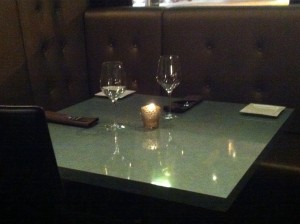 knowledgeable (and with absolutely NO knowledge of beers.) The food wasn't fast, but it wasn't brutally slow, either, and in total, the three-course meal clocked in at around two-and-a-half hours.
D'Lish's decore is inviting and ultra-stylish, a relaxing little slice of 124 Street with perhaps 15 tables.
It is not a restaurant for someone looking for simple dishes or to stuff back home cooking. But if you want to challenge your palate without breaking the bank, it is a wholly satisfying meal.
Highly recommended!