THEATRE: Quasimodo, fully satisfying
There's music, dancing and Quasimodo — but there is nothing Disney about Catalyst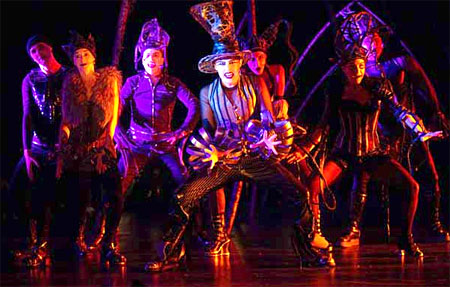 Theatre's take on Victor Hugo's classic 1831 novel The Hunchback of Notre Dame.
This is a tour-de-force examination of humanity's darker traits.

With Hunchback, playing at the Citadel's Shoctor Theatre through March 27, Catalyst's core team of Jonathan Christenson, Bretta Gerecke, Laura Krewski and Wade Staples has added another dark, visually stunning masterpiece to join its acclaimed productions of Frankenstein (2006) and Nevermore (2008).
Set designs and props are vibrant and inventive, and characters are dressed to the nines in elaborate gothic getup.
With flamboyant threads complimented by leather, white makeup and black lipstick, the actors look something like the cast of Tim Burton's recreation of Alice in Wonderland if they took a trip to local club New City Compound on goth night.
Misery finds ample company in this tragic tale of love gone horribly awry.
Instead of building the story around crippled bellboy Quasimodo, Hunchback spends a generous amount of time examining his adopted father Claude Frollo, the Archdeacon of Notre Dame, and Gypsy seductress La Esmeralda.
The characters are complex, flawed individuals searching desperately for companionship. Without any clear-cut heroes or villains, Hunchback delves into fear, obsession and our desire to control others, while cruelly framing love as a devastatingly destructive force.
Narrator Pierre Gringoire (Jeremy Baumung), who appears for welcoming asides throughout the performance, sets the tone early with Hugo's line, "Love. It's never stronger than when it's most unreasonable."
As many of us are already aware, unreasonable doesn't even begin to describe how out of hand things get in this story. We all know love can turn ugly, but this performance, set in pre-enlightenment Paris, France in 1482, portrays life itself is quite a hideous thing for nearly everyone involved.
Quasimodo, played convincingly by television and stage veteran Ron Pederson – who thankfully loses the character's speech impediment for the singing  – is the obvious pity story; the hideous boy with no friends who has gone deaf from ringing bells all his life, to keep the "normal" folk running on time.
But free-spirited Esmeralda, played brilliantly by Ava Jane Markus, learns that a pretty face can be every bit as troublesome as a deformed one. The apple of every man's eye, the young Gypsy woman finds herself falling for smooth-talking womanizer Captain Phoebus de Chateaupers (Ryann Reid), and being framed for murder and victimized by a cold, heartless justice system.
Frollo, the only man in town with the heart to see past Quasimodo's shortcomings and raise the boy as his own in the famed Notre Dame Cathedral, lets his obsession with Esmeralda consume him until his starvation for love has filled him with hate.
The story is told masterfully through superb choreography and a powerful soundtrack, making full use of the Shoctor's sizeable stage.
The music, led by music director Don Horsburgh, is certainly not your standard theatre fare. A live band with drums, strings and keys plays over electronic beats in a classical-pop fusion that employs operatic moments alongside hints of hip hop.
Deep down, every character holds admirable traits. But in the end, love conquers nothing, heroism is met with little reward, and kind hearts and cool heads certainly do not prevail.
Even poor old Quasimodo is guilty of double homicide when all is said and done.
Amid sparse moments of humour, this is a dark and gut-wrenching rendition of Hugo's classic, and one well worth seeing.
We won't give away the ending. But let's just say, it ain't no Disney cartoon.