Hot Picks, March 13: Preaching to the choir with Steve Bell
Be careful any time you stick a modifier in front of the word "music" because when anything else comes before music, your priorities might get mixed up.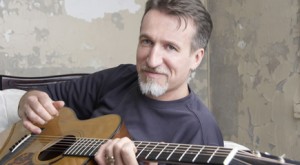 One could say the same thing about God, of course. Steve Bell is a kindly, bearded Christian with a guitar and a story to tell. You can be part of the choir he's preaching to tonight at the Winspear Centre, where he and his band will perform material from the Winnipeg-based Juno-winner's latest album, Try a Little Kindness, among other folky spirituals that date back through three decades. They are on the "Kindness Tour." Isn't that nice? You can't argue with the simple good advice embodied in Bell's music – basically: be kind – nor with some of the finest "Christian music" one will ever hear in Edmonton on this day.
Tickets to the Steve Bell Band start at $16.50 and are on sale at the Winspear box office here, or by calling 780.428.1414.
Now wait, brothers and sisters: let us not forget another long-running event that modifies music in a most pleasing way: "Blues music," which can be heard at another popular jam in town this afternoon: The Sunday Soul Service at the Newcastle Pub (6108 90 Avenue, 780.490.1999), hosted by Willy James and Dave 'Crawdad' Cantera. Everyone is welcome, even God. Admission is free. Hallelujah!