Mayor's Evening for the Arts – it's not really his evening, it's ours.
Stephen Mandel is one of the artsiest civic leaders artsy Edmonton has ever had – demonstrated again this year with today's announcement of the nominees for the Mayor's Evening for the Arts awards presentation on April 11. It's not really HIS evening. We elected him. It's OUR evening.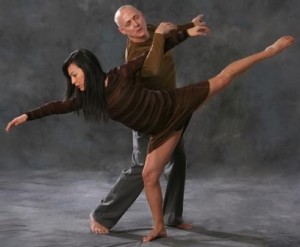 Some of the names you will recognize: Edmonton dance guru Brian Webb (right) is among the nominees for the ATCO Gas Lifetime Achievement award, along with Sam Uhlick (renowned local potter), Charles Thomas Peacocke (U of A drama professor) and A.J. Rasko (Fringe Theatre Adventures)
The Molson Coors Award for Excellence in Artistic Direction will be a race between Dr. Robert J. de Frece (retired U of A music prof), Michael Clark (Workshop West Theatre), Josée Thibeault (artist, musician, filmmaker, musician) and Sandro Dominelli (local jazz drummer and recording artist). It's not a race. They're all excellent artistic directors already.
Three Edmonton authors are up for the City of Edmonton Book Prize: Tim Bowling for "In the Suicide's Library," Myrna Kostash for "Prodigal Daughter: A Journey to Byzantium" and Rudy Wiebe: Collected Stories, 1955-2010.
Other nominees operate from behind the scenes, where it really counts – i.e., the money – such as the aforementioned ATCO Gas, nominated for the Mayor's Award for Innovative Support of the Arts by a Business, along with the Delcon Group, Film Alberta Studios, WorleyParsons CoSyn Technology and ATB Financial.
Administered by the Professional Arts Coalition of Edmonton (PACE), the Mayor's Evening will also honour young and emerging talent, with a specific award open to only to junior high and high school students.
The Mayor's Evening for the Arts takes place Monday, April 11 at the Winspear Centre, featuring performances from Kat Dancer, cast members from the Irrelevant Show, the Jump Orchestra and much more. Tickets are available at the Winspear Centre box office, 780.428.1414.