Edmonton Jewish Film Festival returns in April
Edmonton has a smallish Jewish community, but it is tight-knit and prosperous – and its people are sometimes hungry for authentic Jewish culture, which can be hard to find in the mainstream. And no, Coen Brothers movies don't count.
Cue the Edmonton Jewish Film Festival, back again after a year off, this coming April 3-4 at the Metro Cinema in the Citadel Theatre. Six films will be screened, five in Hebrew and one in German, all with English subtitles.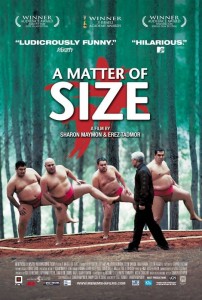 "These are films where there's definitely a niche audience, films they can't access anywhere else," says festival producer Josh Miller. "The other part of this is that we spend a lot of time selecting these films. Even if you're not Jewish they're still great films. We welcome the general public with open arms."
The films and their press release blurbs:
– "A Matter of Size," the story of four chubby blue-collar guys who give up their austere diets to become Sumo wrestlers.
– "This is Sodom," a zany Monty Python-esque take on the final days of the biblical sin city.
– "The Secrets," the award-winning drama about two young religious women who endeavour to be true to themselves as well as their beliefs.
– "Eichmann's End," a riveting docu-drama based on actual recordings made by Nazi Adolf Eichmann.
– "Yes, Miss Commander," a film about a boot camp for male criminals who are trained by female soldiers.
– "The Last Survivor," a film about brave survivors of genocide who are speaking out to prevent new atrocities.
Tickets are $10 for each film or $50 for all six. Contact the Edmonton Jewish Community Centre at 780.487.0585 or Tix on the Square. A portion of the funds raised will be donated to the Kav HaZinuk Leadership Development Program in Israel.