EXCLUSIVE: Edmontonian taught Lady Gaga's violinist
Ever since Lady Gaga twatted Edmonton with a picture on Twitter showing Rexall's big "This is Oil Country" sign with a piece of equipment strategically blocking the "O" in "Country," we've been searching for a classier Edmonton-Gaga connection.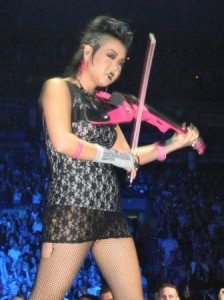 Very funny, Gaga. But all is forgiven because you hired one of Edmonton's worthy talents – virtuoso Edmonton violinist Judy Kang. The former child prodigy has done more than 125 shows on Gaga's Monster Ball tour so far – which wraps May 6 in Mexico City – her big moment coming during the intro to Poker Face. Kang, 31, auditioned last year for Gaga in New York City, where Kang had attended the prestigious Juilliard School of Music. Gaga was impressed. Before that, Kang studied at the super-exclusive, scholarship-only Curtis Institute of Music in Philadelphia.
And before that? Alberta College – right here in Edmonton. We recently caught up with James Keene, her teacher for four years. The retired music professor and former ESO concertmaster is what you might call seriously "legit" in classical music circles.
Q: What do you think of your student's new gig?
A: I don't know much about it, or how she's doing, or how much money she's making. It's probably going to give her quite a bit of exposure.
Q: Have you seen any of the Lady Gaga YouTube videos with Judy in it?
A: No. I'm really just into classical music.
Q: What do you remember about Judy as a student?
A: She was a child prodigy. International level. Huge. Amazing. She could play anything, anything at all – at the age of 10, 11. She came to me when she was about eight, and she was already well on her way. She went onto the Curtis Institute in Philadelphia, got in when she was 11. I was accepted there when I was 12, but that was a long time ago. I'm 67 now.
Q: How do you think the Gaga gig will help her classical career?
A: It will be another way for her to get noticed. The world of classical music is shrinking, and it's very political. There are people who do amazing things, and they never get noticed. Judy's name is going to get out there. It's very slow in classical music, glacially slow.
Q: Do you think her playing with Lady Gaga will hurt her credibility in the classical music world?
A: I don't think so. Because she still plays great. Sure, there are going to be people who say she's deserted the cause, but that's just wrong. She's adding to it.