LITERATURE: Montmaray a masterful fantasy, absent magic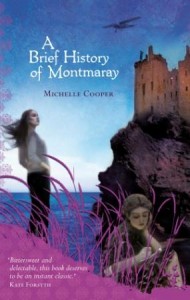 "A Brief History of Montmaray" by Michelle Cooper is set in a fictional, wind-lashed island kingdom and is aimed at the teenage market – yet none of the characters have any supernatural powers. Everyone lives in a castle that has secret tunnels and even a creepy crypt, but there's not a witch, warlock, or handsome vampire with long eyelashes lurking anywhere.
It's practically heresy.
If you haven't read any of the Harry Potter books, you likely have an earnest friend or relative urging you to give one a try. This person insists that even though the books are intended for children, they're still a cracking good read. You tell the person that you've always meant to pick one up, it's just that you're so busy these days. You've taken up hot yoga, and your dishwasher is broken. And so you decline their offer to loan you a copy.
It isn't that you doubt your friend. You know Harry Potter books must be good because so many people whose literary opinions you respect adore them. You're happy, too, that the series has inspired millions of little urchins to put down their cell-phones, headphones and gaming controllers and pick up actual books.
The real problem is something you're ashamed to admit, because if you do, everyone will accuse you of lacking imagination. You hate magic!
It's not like you haven't tried. You gave "Lord of the Rings" a fair chance, and you've even sampled some of the million or so vampire offerings on the market these days. But the truth of the matter is that if a story contains sorcerers, wizards, trolls, hobbits, or David Copperfield, you're immediately launching forth on a quest to the nearest kingdom of second-hand books to see if there's a John Irving you haven't read yet.
Well rejoice, because "A Brief History of Montmaray" is spellbinding without resorting to anything magical at all. As a matter of fact, the characters are atheists!
The story is told from the point of view of Sophia FitzOsborne, a princess on an island called Montmaray, who has just turned 16. The year is 1936, and like everywhere else in Europe at that point, Montmaray is on the verge of a real humdinger.
Montmaray sits in the Bay of Biscay between Ireland and Spain and is very strange. Almost all of its residents are gone save for a mad king (Sophia's uncle), her younger tomboy sister, the king's brainy and beautiful daughter, and a few servants. (The king has wispy hair and a beard but don't worry – he isn't Gandalf.)
Sophia's main concern at the beginning of the book is how she's going to convince her slightly-older, smarter, and prettier cousin to accompany her to England for her debut into society. She simply doesn't have the confidence to go alone. But it isn't long before world politics and adult intrigue shatter Sophia's strange, forgotten little corner of the world and her girlish concerns are overshadowed by grown-up responsibility.
"A Brief History of Montmaray" is essentially Sophia's coming-of-age story. Her fairy-tale kingdom is crumbling. Her loyal subjects still call her "Your Highness," but the monarchs are poor and she does the same cooking and cleaning chores the commoners do. She's happy, but it's clearly a world that can't last. Just like her childhood.
Sophia is a particularly easy character for a young audience to identify with because she's average and knows it. Yet as we learn through the events of the story, it's not always the smartest person who saves the day. Sometimes it's the most observant.
The book has won numerous young people's literature awards since its original release in Australia, where the author lives, and a sequel titled "The FitzOsbornes in Exile" is already scheduled for North American release next month.
If the sequel can work the same magic as "A Brief History of Montmaray," then perhaps Michelle Cooper will be a wizard to rival J.K. Rowling.