Hot Picks, March 16: The Backstreet Boys of classical guitar
The words "classical" and "guitar" together spells some pretty serious pickin' – which is expected in abundance when the Los Angeles Guitar Quartet plays the Winspear Centre tonight. Just know that "pickin" is to classical guitar what fiddle is to fine violin playing.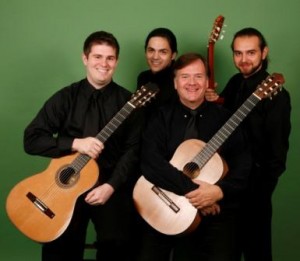 This Grammy-winning ensemble – called by some, OK, just us, "the Backstreet Boys of the classical guitar world" – dazzle audiences with an astounding variety of music from Bach to Bizet to Brazilian bossa novas and that's just the B's. No actual Backstreet Boys, though. Tickets to the 7:30 pm show are $40 or $50 on sale at the Winspear box office here, or call 780.428.1414.
For swell theatre, Next Year's Man of Steel is the new Belke opening tonight at 7:30 at the Varscona Theatre. Notice this is no mere play, but a "Belke," as in David Belke, the renowned local playwright who has honed such a distinctive style over the years that one often just asks, "Have you seen the new Belke?" and people will know exactly what you mean.
Here we have a comedy-drama-adventure about the booming comic book industry following the debut of Superman in 1938. A rival publisher (John Wright) wants a new superhero comic pronto and it's up to comic book writer Everett Gardner (Mark Jenkins) to deliver the goods. It's not as easy as it sounds – and typical Belkean hilarity ensues. Maybe we'll all learn something about what it means to be a hero in the end.
Tickets to Next Year's Man of Steel, running through April 3, are $26 for adults, $22 for students and seniors, on sale at Tix on the Square.