MUSIC: DJ may be a Bastid, but he loves audience participation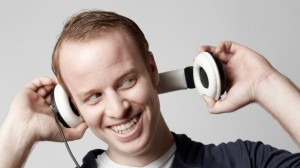 It's true what they say. These days, everyone's a DJ.
You'd think that might frustrate someone like Skratch Bastid , who was in the biz before computer software made his job infinitely more accessible.
But the Halifax native has wisely embraced the new, inclusive musical climate.
Skratch Bastid, real name Paul Murphy, will brought his hip-hop-rooted beats to the Pawn Shop on Whyte Avenue March 16, with guests Allout DJs and DJ Twist .
Murphy recalls the advent of game-changing digital DJ platforms like Serato in the early 2000s that made his extensive vinyl collection all but obsolete.
"I'm super grateful for having learned on records, and learned certain things about finding and mixing music without Internet and computers," he says. "But that definitely opened the floodgates for a bunch of new DJs to start.
"That being said, I'm not angry. It definitely made my life easier."
At age 28, Skratch Bastid, one of Canada's most accomplished and in-demand DJs, is already a veteran of 13 years.
His interest in hip hop started when he became a Wu Tang Clan superfan, and was bolstered by an underground rap radio show run by fellow Haligonian Buck 65.
Murphy went on to face Buck in a number of DJ competitions, and the two started collaborating while Murphy went on to claim numerous battle titles, winning several times at the massive Scribble Jam hip-hop festival in Cincinnati, Ohio.
In 2008, Skratch Bastid became the first DJ to earn a Producer of the Year Juno nomination for his work on Buck 65's album Situation.
But while his work is based in hip hop, Murphy fuses the genre with indie-rock and electro gems, creating mash-ups that cross markets and have a penchant for going viral online.
"I think generally speaking, in 2011, most people don't like just one type of music," he says.
"There's many different ways that the Internet has allowed us to access and consume music. It used to be you had to be so into something to collect the CDs or tapes or whatever; you had to invest in it. If you were a fringe fan, you probably didn't get much further than a compilation CD like NOW or something like that.
"Now, everybody can listen and enjoy music without buying it, and without going to deep into it."
For a prime example of Skratch Bastid's danceable fusion, check out the track Skewed Empathy , which lays Skew it on the Bar-B by Outkast overtop the Crystal Castles track Empathy.
His mixes are typically made available for free online to avoid copyright issues, though he has occasionally been ordered to take files down from his YouTube channel.
On the flip side, he's received kudos from the likes of Kanye West, who blogged his remix of West's song Workout Plan.
"It's funny to try to fight it, because it's spreading your name, it's getting you out there. That's just how people consume music now," Murphy says.
"People are more participants now than they ever have been. Instead of picking up an acoustic guitar and playing your song, they're taking pieces of your song and rearranging them."
Murphy has recently been working on a new project in Vancouver with Chin Injeti, who played with Bass is Base in the '90s and just won a Grammy for his writing and performing efforts on Eminem's latest album Recovery.
Skratch Bastid will continue to embrace change while music industry dinosaurs squabble over silencing his kind.
"Hip hop DJing and sampling has always been a little defiant of copyright laws. I come from a long line of musical thieves of sorts," Murphy laughs.
"I don't think what I'm doing is causing any harm to the music business, I just think it's expanding it. If the proprietors of that business have any problems, they can e-mail me at skratchbastid@gmail.com."
Tickets are available here for just $8.