THEATRE: Look up in the sky! It's the new Belke!
Dateline: New York City, 1940 – The infant comic book industry is booming. Everyone wants to cash in on the Superman craze. A young man is hired by a demanding publisher to create a new superhero for a new comic book. He is teamed up with an artist who turns out to be his personal Lex Luthor. The task turns into a superhuman feat – and the premise of Next Year's Man of Steel, playing through April 3 at the Varscona Theatre. Playwright David Belke promises a play with "comedy, drama and a touch of adventure" – just like a good Action Comics yarn.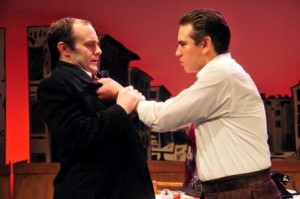 The hapless comic book writer "finds out that creating an honest to goodness superhero is more difficult than it seems," Belke explains. "Things are complicated by the fact that he's teamed up with an artist who doesn't particularly like him."
The play stars Mark Jenkins as the comic book writer Everett Gardner and Ryan Cunningham as the artist Simon Reid, with John Wright as publisher Shelly Kertzberg, who brings the pair together to create another Superman. In the process, they learn about "art, creativity, partnership, collaboration and the nature of heroism."
For this play, Belke taps into his own love for the so called "graphic" novel.
Belke says, "They're called 'comic books.' Let's be honest about this. When I was growing up, they were called comic books, and that's what I still call them. 'Maus' is a graphic novel; Batman isn't. I devoured comic books when I was young and still to this day I still follow certain titles and certain creators. It's a fascinating form of story-telling and it's a medium that's still quite young and wholly unique. And that's part of what this play is looking at. In 1940, the comic book business was literally in the process of inventing itself. Nobody knew what the conventions or the tech niches were. All they knew was that this thing was suddenly here. And that's one of the things Everett and Simon grapple over: 'How do we write this? How do we draw that?' It's 1940: Superman is a year and a half old at best, and suddenly thousands of titles explode on the scene trying to exploit the popularity of Superman," which by this this time had become a merchandising juggernaut. Radio shows, lunch pails, even condoms ("For the man faster than a speeding locomotive") – and you believed us there for a second, didn't you. No, no condoms. But name practically any other product and the Superman brand was flogging it: Lunchboxes, breakfast cereal, posters, watches, bedspreads, underwear.
This play represents yet another collaboration with Shadow Theatre's director John Hudson. Even Belke admits he's lost count of how many times they've worked together. The playwright himself has actually written more plays than William Shakespeare – and he's working on two more for this year's Fringe Festival.
"Still at it," Belke says. "Still taking every opportunity to write, because I love it. I love the collaborative process, and writing stories that are worth sharing. It's a pleasure and a privilege to be a playwright, and be lucky enough to have an audience that takes an interest in my work."
And even after so many plays, so many 'Belkes' enjoyed by so many Edmonton audiences, the playwright is still trying out new things, new twists. This Year's Man of Steel is no exception: "It hit me around draft two that if I was writing a play about comic books, I should employ some comic book story-telling techniques into the show. So that's been a new element that we've been playing with – and it's turned out just gorgeous."
Gorgeous-Man – now there's a swell name for a modern superhero.
Next Year's Man of Steel plays through April 3 at the Varscona Theatre. Tickets are $26 for adults, $22 for students and seniors, on sale at Tix on the Square, or call 780.420.1757.