St. Paddy's Day just an excuse to get stinking drunk by noon – and the problem is?
It is time to honour the patron saint of Ireland by wallowing in all the negative stereotypes about our Hibernian friends – did you know one of the favourite traditional Irish sports is called "hurling"? In short, it's an excuse to be stinking drunk by noon on a weekday.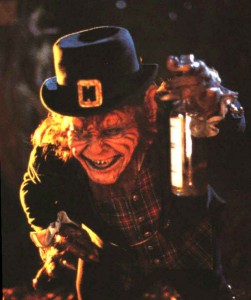 Happy Saint Patrick's Day, everybody!
Or maybe you relish the chance to wear garish shamrock green, verily the most unfashionable colour in the style spectrum. In either case, you can't avoid Saint Patrick's Day. Discuss the matter over green beer, why don't you? It isn't even a real holiday – not like it is in Ireland – but don't tell that to any of the proprietors of the multitude of Irish pubs around Edmonton, where this entire week is Mardi Gras, Christmas and New Year's Eve all rolled into one.
We contacted an actual Irish person – Edmonton Folk Music Festival producer Terry Wickham – to get his take on what has become one of the most obnoxious days of the year. He has a lot to say about Irish history, Irish traditions and Irish culture from Riverdance to U2, but he isn't particularly offended by what St. Paddy's Day has turned into. Says Terry, "I get more offended by DJs trying to do an Irish accent. But if people need an excuse to drink, fine."
Good enough for us! Check out some cool St. Paddy's Day events around town:
Let's start at the Druid Irish Pub, where a St. Paddy's celebration of Bacchanalian proportions will be brewing from around noon till whenever the green beer takes its inevitable toll. Like our ol' daddy used to say: "When the sun's over the yardarm, a wee swalley will do ye nae harm!" God rest his soul. With K-97 doing a live broadcast on site all day, the party will feature real Irish dancers dancing, fiddlers fiddling, pipers piping, plus live music from local Irish-ish party band Owls By Nature and mush, mush more! How do they make green beer, anyway? Don't ask. Admission is free.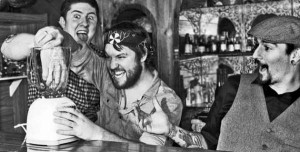 Edmonton is simply too spread out to stumble effectively between one Irish pub to another – you risk sobering up – though there are a lot of them. About 645 at last count (the counter was a drunk Irishman). That's why taxis were invented. Take one – down to O'Byrne's Irish Pub on Whyte Avenue where local Celtic singing siren Derina Harvey plays for your entertainment in the afternoon, followed by the Brady Academy of Irish Dance later on and then local Celtic-party band The Pure that evening. Apparently you can't play in either Texas or Ireland without a fiddle in the band.
Celebrations start early at Ceili's Irish Pub, where a charity Irish breakfast takes place from 7-11 am. It's $15 per person, with all proceeds going to the Bear Children's Fund. Once properly girded with hearty, greasy goodness, pub-goers can take in performances by Irish dancers and bagpipers, before an evening concert from the Irish party band Neil Patrick and the Harris, one of 645 Edmonton-area Irish party bands cashing in on this special day. There's a $10 cover after 1 pm.
A classy Irish party is expected at the Royal Glenora Club where the locally legendary McDades are performing with special guests. Good "Craic" is also promised – a term that loosely translates to "fun."
Fred Eaglesmith isn't Irish, but he has repeatedly played the Edmonton Folk Music Festival, which has featured many, many Irish performers over the years, and has also been spotted holding court in the performers' beer tent. Close enough! He plays Thursday at the Century Casino, which also has Shanneyganock playing on Friday, March 18. With a name like that, you can't go anywhere but Irish. Well, Newfoundland, anyway. Buy tickets to Fred here and Shanneyganock here.
Also spilling over into Friday is the Irish Descendants playing Festival Place. With a name like that … well, you get the general idea. It's the "reel" deal. See what we did there? Reel is a traditional Celtic song form, like a jig or sea chanty. We can learn a lot from the Irish. Buy tickets here.
You still want to know how they make green beer? You really want to spoil the leprechaun magic? It's green food colouring. And just so you know, too much green beer will eventually make your lips turn green, so if you're drinking and driving, your guilt will be obvious. Do we have to say this again? Take a taxi.