Hot Picks, March 19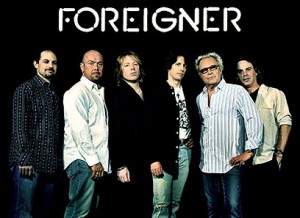 Hot picks? Hot picks? Hah! Today, Gig City is downright hot-blooded!
And that can only mean Foreigner is in town. The band plays River Cree Casino tonight.
Seriously, for those of you who can remember the halcyon, heady days of the 1980s – when repression was king and Lou Gramm hadn't decided to torture us with a solo career yet – there were few bands bigger than Foreigner.
The band's 1981 release, 4, gave us Jukebox Hero long before there was guitar hero, along with Urgent – featuring a killer minor-key sax solo from the late, great Junior Walker of "Shotgun" fame — and Waiting For A Girl Like You. They'd already sold some 9 million albums by that point on the strengths of hits like Cold as Ice and Feels Like the First Time.
Then there was the BIG single, I wanna know what love is, which probably resulted from Mick Jones coming into contact with Junior Walker and deciding he has soul. He didn't. AM radio has never been the same.
Unfortunately, as is often the case with bands that stay together for, er, perhaps a week bit too long, this isn't your daddy's Foreigner: Jones is the only original member left. Still, on a slow night in Champ City, it beats the alternatives.
Or….for a fun local excursion check out The Awesomehots, a band made up of several excellent musicians in their own right, as they release a new CD at Wunderbar, off Whyte Ave. It's no Foreigner but we're pretty sure they wanna know what love is, too. So go show them.