PREVIEW:Diamond Rings appreciates the attention
Everybody wants a piece of John O'Regan these days.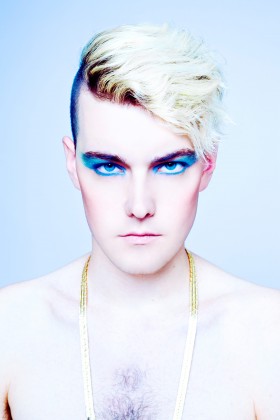 The Canadian indie-pop sensation known as Diamond Rings can find his colourful image splashed all over the Internet.
And the phone calls keep coming. After Gig City connects with O'Regan, behind schedule, our conversation is abruptly cut off.
We reconnect a few minutes later as O'Regan reaches his hotel room.
"The phones have been out of control," he says. "We've been doing a lot of interviews … I think we might have just run out of minutes."
Diamond Rings will use a laptop, a keyboard and an electric guitar to bring his dark pop savvy to Brixx Bar and Grill (underneath the Starlite Room Tuesday night. PS I Love You will open the show.
The stakes keep getting higher for O'Regan, who was previously best known as the frontman for acclaimed, still-functioning Toronto indie-rock band D'Urbervilles.
Having recently wrapped up a three-week North American tour opening for dance diva Robyn, Diamond Rings has even garnered a spot in Rolling Stone magazine.
You'd think an interview with North America's most legendary music mag might stand out to the singer/songwriter, but O'Regan is unfazed by the recognition.
"It's just another person to talk to about my stuff," he says.
"It's what it is. I'm not driving a Bentley yet."
While his exceptional 2010 debut album Special Affections received widespread praise, much of the attention directed at Diamond Rings has been focused more on his androgynous image than his songs.
Questions often revolve around his multicoloured makeup and flamboyant wardrobe choices, which include tight pink shirts and zebra-striped leggings.
O'Regan readily admits there has been a little too much focus on aesthetics … not that there's anything wrong with that.
"Yeah, totally. But that's the way it is, if you look historically at many artists.
"Whether they write great music or not, oftentimes the ones who get attention are those who are doing something different aesthetically, whether that's Lady Gaga or that's Devo or that's Kraftwerk or Grace Jones. Those are all artists I've taken inspiration from," he says.
"A lot of times music is kind of boring to talk about."
O'Regan, who wrote his first Diamond Rings songs with an acoustic guitar and keyboard while cooped up in a hospital bed with a Crohn's-related illness, says his image has nothing to do with gender or sexual orientation.
It's about being free, having fun, and standing out amid a sea of pop-star hopefuls who are bombarding the Internet.
The online success of Diamond Rings' music videos, including Show Me Your Stuff , prove he's onto something.
"I think that's maybe part of the reason that artists are having to in a way spend more time cultivating an image or a persona in order to stand out," he says. "There's so much music and it's hard just to do it on songs alone."
O'Regan will soon step off the Diamond Rigs wave to reconvene with D'Urbervilles, who have new material in the works.
In the meantime, he seems to be coping with the media circus.
"It's just different, it's cool," he says. "I know what it's like to be working and not have anyone give a shit about it. So it's part of the job."
Watch for Diamond Rings and PS I Love You to perform their collaboration, Leftovers, on Tuesday night.
Tickets are available here .