REVIEW: Blue bayou
Dadeo New Orleans Diner and Bar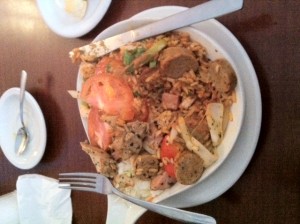 10548 82 Ave.
(780) 433-0930
Edmonton's foodie community, it has been noted, can be somewhat fervent.
I'd like to think this is a natural extension of their shared passion for all things gastronomic. But the reality is that communities tend to just be fervent. Sometimes, the focus of that fervour deserves it, other times …not so much. Either way, it generates a little excitement on an otherwise unengaging evening.
I've eaten in any number of restaurants here  that came highly recommended. Most of the time, I've been disappointed, having eaten in similar establishments in numerous other cities. Either the ingredients have been less than fresh, or an appetizer has been obviously cooked from frozen, or a dessert is a renamed version of the same chocolate mousse cake that fails so valiantly at any number of ambitious, wannabe chains, or the product is overpriced.
But then occasionally, you find a place that simply cooks.
This is not a review about one of those places.
Instead, it's a review of local favourite Da-De-O's, a cajun restaurant that has been a fixture on Whyte Avenue, in one form or another, for years.
Da-De-O's is beloved. I first ate there about 13 years ago, and had the blackened catfish with tequila salsa. It was superb. It took forever to get service and was badly overpriced, but the 50s diner interior of the place, replete with table-top mini jukeboxes and genuine kitsch on the walls all added up to some serious satisfaction.
I understand the ownership changed a few years thereafter. I've eaten at Da-De-Os on three other occasions and on each, been disappointed. On one of two occasions in which the staff were rude, it was so vexing I had to restrain myself from punching one of them in the mouth, and I'm a pacifist. On the third, the food was overcooked and dry.
So my expectations were low on this latest visit, a mid-afternoon pop round for a couple of traditional dishes from its menu, which barely seems to have changed after all these years. The blackened catfish with tequila salsa was still there, and so were the po' boys, which people inexplicably rave about.
Thing is, outside of that first visit well over a decade ago, I've never gotten much of a "creative fresh food" vibe from the place's food. It's stick-to-your ribs fare, and some of it is tasty enough, in an "assaulted with cayenne pepper" kind of way. But it has never been anywhere near good enough to support its rep. Local alternative papers have handed it all sorts of awards, and yet in five trips here now, I`ve had exactly one impressive meal.
On the other hand, it's also not the priciest joint. Its coffee continues to be good and if you can stand the near-suffocating hipster vibe from the university folk who call it a steady hangout – or perhaps even relish it a bit – it's still got charm.
I started with the crab cakes. Clocking in at $12 for three, I was expecting something better than standard, deepfried, breaded cakes. The crab flavour was largely dominated by the breading and the red pepper sauce that came with it. The sauce was cold and had a slightly congealed consistency, although that might've been a concession to the cayenne pepper liberally dusted on the plate. These suckers were hot, but more generically fishcake-tasting than crab. I wasn't entirely sure they weren't cooked from frozen.
The jambalaya adhered to the traditional sausage, shrimp, chicken and rice formula that has served lots of cajun restaurants well over the years. But the dish seemed speed prepped, a combination of pre-made sauce and meat ingredients at heat in the pan, instead of stewed together over time. To me, that's not real jambalaya any more than it`s real curry when an East Indian restaurant does the same. It`s certainly not a $14 dish.
Having said that, it was a reasonably tasty sauce. The cubes of ham and pieces of chicken, along with baby shrimp, weren't particularly infused with flavour from the dish, again suggesting some speed in prep. The tomato rice was peppery and a little overcooked, as was the chicken, and neither were initially coated with enough sauce.
Da-De-O's has a full range of desserts along with a menu of its popular Po' Boy Sandwiches. And it's located in a prime spot just off 105 St. And Whyte, right next to Avenue Guitar, so the area is always humming with customers. It`s easy to see how that alone has helped it build some customer loyalty.
But again, that doesn`t explain the vociferous endorsement the restaurant gets, and it`s certainly not the only so-called local institution to have left me somewhat nonplussed. It`s good for what it is – a nice place to stop in with a small group of friends for some comfort nosh, not gourmet fare – if they can`t even cook rice properly they`re not getting that label anytime soon. There`s nice stuff on the walls, and some decent Chicago blues and Motown on the jukebox.
Which takes us back to my original theory: sometimes, that local foodie fervour is all a matter of environment and community. If you`re not that picky about your food to begin with, a jukebox full of decent tunes, a hot sandwich and some good coffee might still carry the day.