Hot Picks, March 20
Today Gig City is all about adding some class to your drab little lives.
Now, usually these days, that's a metaphor for gay and fabulous. But we mean the old-fashioned kind of classy. Classy, not flashy, and most certainly not trashy.
Old-fashioned classy can be entertaining! We promise.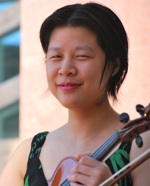 First, pop over to The Arden Theatre in St. Albert for the 11 a..m. Brunch and a show, this week featuring Nova Bhattacharya, a classically trained Bharatanatyam dancer as she performs multiple pieces fusing traditional East Indian dance with contemporary western. Tickets are $50 for one show or $125 for the series, and available here.
Then, at 3 p.m, Holy Trinity Anglican Church continues its concert series with a classical recital by Alissa Cheung on violin and Sarah Ho on piano. Entry is by donation. Makes up for the hit you take on the dancing, eh?
At night, abandon both class and all hope: it's the Battle of the Bands at On The Rocks,(Caution: site features annoying loud video commercial as soon as it loads. Really?!? You think that's helping business?)  a head-banging good way to round out the weekend in Gig City.